Tanya Ury
D-50672 ,
Germany
As a mature student I gained a BA HONS in Fine Art, First Class, 1988, at Exeter College of Art and Design (GB), which is now part of the University of Plymouth, and in 1990 was awarded a Masters in Fine Art with Distinction at Reading University. Parallel to the time at Reading I attended the Institute for Theatre, Film and Television Studies, Cologne University, Germany for one semester in 1989. From 1991-92 I was employed as guest lecturer during the Colin Walker Fellowship in Fine Art, at Sheffield Hallam University. My postgraduate studies were supported by a British Academy Award and an Erasmus Grant. Before and after my academic studies I spent some years practicing Raj Yoga meditation in London, working with children as a housemother in a state children's home, later on the land in Norfolk as herb gardener, and in an old people's home as a? care-taker. I have also worked as a cook in an old people's home and in several vegetarian restaurants, in Great Britain and Germany. At the start of my art practice my choice of subject matter: signs of the Holocaust in contemporary Germany and issues of Jewish identity in a feminist context, led to such positive feedback in Germany during my study period there, in contrast to the general disinterest of Great Britain, that I decided to move to Germany, although it was the land from which my Jewish parents and grandparents had fled the Nazis; I gained English/German dual nationality in 1993.
Apart from taking part in more than 150 exhibitions, giving workshops and lectures, over the last 20 years, I have also curated exhibitions, published several short stories in Germany and articles (selection): 1999 Taking on the Mantle (English) in AufBr?che - Kulturelle Produktionen von Migrantinnen, Schwarzen und j?dischen Frauen in Deutschland (Marginal Cracks - Cultural Production of Women Migrants, Black and Jewish Women in Germany), publ. Ulrike Helmer Verlag ISBN 3-89741-042-7 (D) 2002 Transcending the Ladder (English) in From Work to Word, publ. Korridor Verlag ISBN 3-9804354-8-2 (D) 2005 Das Leiden Anderer Missachten - Disregarding the Pain of Others, (German only) in FILMRI:SS - Studien zum UNTERGANG der Erinnerung (Memory Loss – Studies in the downfall of Memory), Unrast Verlag ISBN 3-89771-435-3 (D) Tanya Ury, January 2007.
Feminist Artist Statement
The importance of a feminist position in my art and writing has held a parallel status for me, with the concern over problems of xenophobia and blind spots in history reflected in European society today, particularly Germany, my home since 1993. I started working on the re-appraisal of Shoah, the Holocaust in Great Britain of the late 80's. Although this was belated, hardly any British artists were doing that, preferring to engage with Britain's colonial history and its aftermath, although the Holocaust and its consequence is relevant to British history, principally because the government under Churchill ignored the fact of the concentration camps, which the British could have bombed for humanitarian reasons, preferring to protect their territorial interests with World War 2. My family was exploited, abused, and murdered, as were many non-Jews. In terms of a feminist approach, the criminalization of rape in war has only been recognised since the Balkan war of the 90's, although Nazis systematically perpetrated this crime, a subject that I engaged with in my artwork of the 90's. My immediate survivor family were part of a wave of refugee-immigrants to Great Britain from Nazi Germany in the late 30's. Today, the British Jewish community is 273,500 strong (http://de.wikipedia.org/wiki/Judentum) but I have not observed any particular interest by them or a wider British populace to support a culture of art by "Jewish" artists. I ask myself why this is. Has British Jewry become too comfortable, too assimilated/ integrated? Why is a Jewish art culture neglected in the United Kingdom? In Germany it is a different story. The Jewish community with its 103,000 is smaller than the British one (http://de.wikipedia.org/wiki/Judentum), but a "Jewish" and "Jewish feminist" art culture is nurtured and celebrated. One must also keep alert here, however, in "The Right of the Image, Jewish Perspectives in Modern Art," Bochum Museum (D) (2003-04), probably the most comprehensive exhibition of "Jewish" art to be held, only 6% of the artists represented were women. Although I am not religious in a Jewish sense, I continue to find the examination of contemporary Germany in the face of Shoah important; wider issues are reflected because this capitalist society has benefited from crimes of the recent past, although some truths are still repressed, such as the fact that Hugo Boss exploited forced labour employed as seamstresses and tailors, to make Nazi uniforms. Tanya Ury, January 2007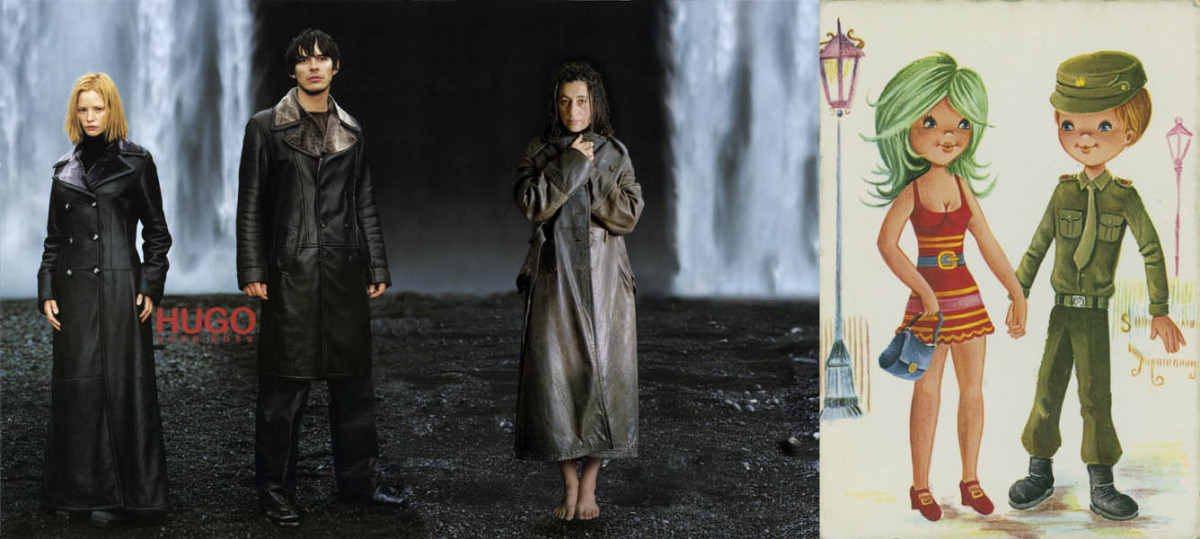 Concept: Tanya Ury
Digital processing: David Janecek
Artist's self-portrait, camera: Doris Frohnapfel
Photograph sealed under plexiglass and mounted
H 55 cm x B 122.5 cm
This photograph, one of four digital photo-collages is composed of three elements; the first constituent, taken from a set of Hugo Boss advertisements for the autumn and winter collection 1998-99, demonstrates amongst other things, a leather coat that closely resembles a World War II German Luftwaffe overcoat. The second is a collection of Spanish postcards from the Franco era displaying simplistic drawings of couples, doll-like girls with uniformed boy soldiers. The last of the three components are photographic self-portraits (of Tanya Ury) from 1996, naked and posing with an original full-length, Nazi leather Luftwaffe coat.
The revelations of the Boss Nazi origins in 1997 were obviously bad press for Hugo Boss AG. They preferred to be seen in a more charitable light and believed correctly that this would be possible, for the Solomon R. Guggenheim Foundation had, as early as 1996, already administered a biennial international art award of $50,000 in the name of Hugo Boss.
Text, images, audio, and/or video in the Feminist Art Base are copyrighted by the contributing artists unless otherwise noted. All rights reserved.