Tomoko Sawada
Tokyo,
Japan
Tomoko Sawada (b. 1977) was born in Kobe, Japan, where she continues to work today. She attended Seian University of Art and Design, in Ohtsu, Japan, completing her degree in media design in 1998 and in photography in 2000. She was the recipient of a Kimura Ihei Memorial Photography Award, as well as an International Center of Photography (New York) Infinity Award for Young Photographers in 2004. She has had solo exhibitions at MAK Center, Vienna; MEM, Osaka; and Zabriskie Gallery, New York. She has been included in numerous group shows at Santa Barbara Museum of Art, Calif.; Japan Society, New York; Det Nationale Fotomuseum, Copenhagen; Culturgest, Lisbon; Z Platz Museum, Fukuoka, Japan; Musee de l'Elysee, Lausanne; Japanisches Kulturinstitut, Cologne; Museum of Contemporary Art, Tokyo; Museum of Contemporary Photography, Chicago; the Ueno Royal Museum, Tokyo; Kawasaki City Museum; and Museum of Modern Art, New York. Her work can be found in the permanent collections of International Center of Photography, New York; Essl Collection, Austria; Los Angeles County Museum of Art; and Museum of Modern Art, New York, among others.
Feminist Artist Statement
Sawada's work has always revolved around the exploration of the tension between outer image and inner truth, using her own body and features as a stage on which to build different identities. As with her earlier series ID400 and Costume, School Days finds Sawada inserting herself into a different identity. Here the artist has presented her face in the flat, confrontational idiom of the institutional group portrait. The portrait has been digitally manipulated so that each girl in the class is Tomoko Sawada. The sameness of the faces echoes the rigid uniforms and formal banality of the rows of students posing for the year book photo. This wall of conformity shows the effects of institutionalization on personality and raises the question: what is the meaning of an individual when all individuals are identical? Sawada was featured in the Global Feminisms exhibition curated by Maura Reilly and Linda Nochlin.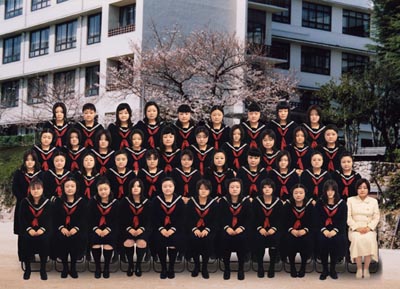 Text, images, audio, and/or video in the Feminist Art Base are copyrighted by the contributing artists unless otherwise noted. All rights reserved.