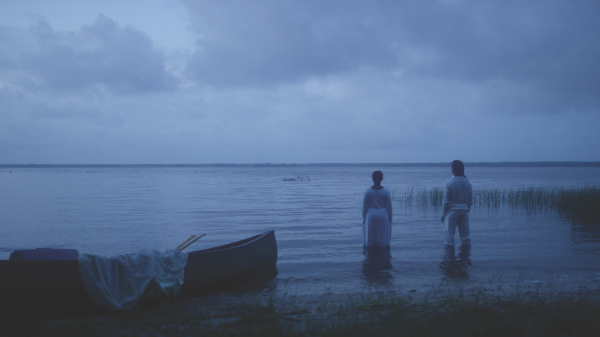 A Movement in Every Direction: Legacies of the Great Migration
March 3–June 25, 2023
Elizabeth A. Sackler Center for Feminist Art and Morris A. and Meyer Schapiro Wing, 4th Floor
Between 1915 and 1970, in the wake of racial terror during the post-Reconstruction period, millions of Black Americans fled from their homes to other areas within the South and to other parts of the country. This remarkable movement of people, known as the Great Migration, caused a radical shift in the demographic, economic, and sociopolitical makeup of the United States. A Movement in Every Direction: Legacies of the Great Migration brings together twelve contemporary artists to consider the complex impact of this period on their lives, as well as on social and cultural life, with newly commissioned works ranging from large-scale installation, immersive film, and tapestry to photography, painting, and mixed media. Featured artists are Akea Brionne, Mark Bradford, Zoë Charlton, Larry W. Cook, Torkwase Dyson, Theaster Gates Jr., Allison Janae Hamilton, Leslie Hewitt, Steffani Jemison, Robert Pruitt, Jamea Richmond-Edwards, and Carrie Mae Weems.
A Movement in Every Direction presents a departure from traditional accounts of the Great Migration, which are often understood through a lens of trauma, and reconceptualizes them through stories of self-possession, self-determination, and self-examination. While the South did lose generations of courageous, creative, and productive Black Americans due to racial and social inequities, the exhibition expands the narrative by introducing people who stayed in, or returned to, the region during this time. Additionally, the Brooklyn Museum's presentation centers Brooklyn as another important site in the Great Migration, highlighting historical and contemporary census data about the borough's migration patterns. Visitors are encouraged to share their own personal and familial stories of migration through an oral history "pod" available in the exhibition galleries.
The exhibition is accompanied by a two-volume catalogue published by Yale University Press that includes a critical reader and a capsule presentation of exhibition content, with commissioned essays by Kiese Laymon, Jessica Lynne, Sharifa Rhodes-Pitts, and Dr. Willie J. Wright. Both volumes will be available in the Brooklyn Museum Shop.

A Movement in Every Direction: Legacies of the Great Migration is co-organized by the Mississippi Museum of Art and the Baltimore Museum of Art. The exhibition is co-curated by Ryan N. Dennis, Chief Curator and Artistic Director of the Center for Art and Public Exchange, Mississippi Museum of Art, and Jessica Bell Brown, Curator and Department Head for Contemporary Art, Baltimore Museum of Art. The Brooklyn Museum presentation is organized by Kimberli Gant, Curator, Modern and Contemporary Art, with Indira A. Abiskaroon, Curatorial Assistant, Modern and Contemporary Art, Brooklyn Museum.
Generous support is provided by the Ford Foundation, Henry Luce Foundation, Teiger Foundation, The Andy Warhol Foundation for the Visual Arts, Bloomberg Philanthropies, the National Endowment for the Humanities, and the National Endowment for the Arts.
Generous support for the Brooklyn Museum presentation is provided by the Arnold Lehman Exhibition Fund, the National Endowment for the Arts, the Maurer Family Foundation, and the Teiger Foundation.