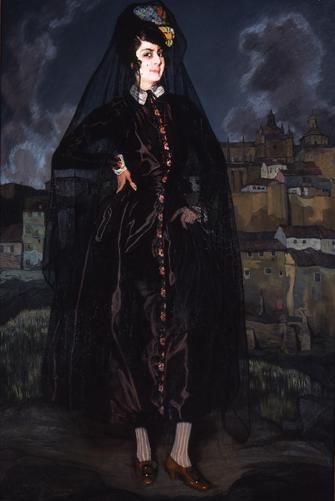 About Time: 700 Years of European Painting
October 3, 2003–January 7, 2008
Drawing on the Museum's collections, this thematic installation explores how centuries of European artists chose to depict specific moments in time, as well as give a sense of time's passage, in a variety of painting genres: landscapes, narratives, and portraits. It also looks at how the work itself bears the traces of the time invested in its making, whether a few instants or several years. Among the artists represented are Davide Ghirlandaio, Frans Hals, Francisco de Goya y Lucientes, Claude Monet, Edgar Degas, Paul Cézanne, Giovanni Boldini, Pierre Bonnard, and Pablo Picasso. Although this installation is not presented according to a strict chronology, the works are discussed in terms of the particular historical and cultural era in which each was produced.
Each of the four sections of the installation is devoted to a particular time-related theme. The section called "Rural and Urban Rhythms" contrasts the workday and leisure-time activities of the countryside and the city. "Processing the Landscape" surveys the formal methods that painters have used to render the landscape in "real time." "Narrative Strategies" shows how artists distill the drama of a story into a single telling moment. And "Tracing the Figure" charts the enduring interest in the human figure, from portraits that place an individual in a clearly defined time frame to timeless abstractions of the human form.
The exhibition is installed in the Museum's Beaux-Arts Court. With its massive skylight, the Court prompts a particular awareness of the passage of time: as the day progresses, natural light slowly travels around the ambulatory, gradually illuminating one wall after another. Seasonal variations, such as the changing length of days or the shifting angle of the sun's rays, as well as day-to-day changes of weather, produce a variety of lighting effects, which may offer a distinctly different experience of the work at any given moment in time.
Finally, curatorial decisions concerning the paintings' display and interpretation—which have changed with each installation of the Museum's collection over the past century—further contribute to our sense of how time is reflected in these works, even as those decisions suggest the concerns and interests of the moment.
This exhibition is made possible by the Iris and B. Gerald Cantor Foundation in celebration of its 25th Anniversary. Additional support is provided by Arthur Richenthal and other generous friends of the Museum.