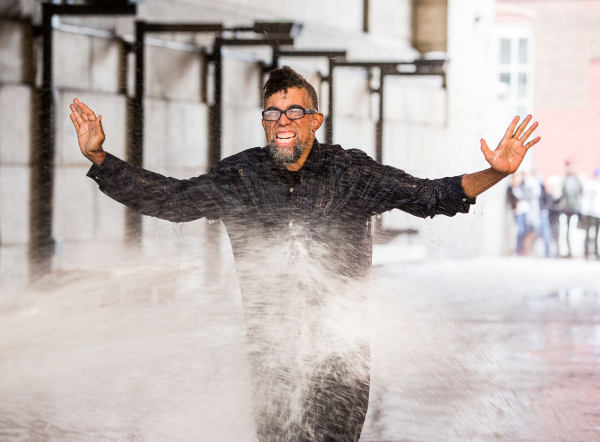 Agitprop!
December 11, 2015–August 7, 2016
At key moments in history, artists have reached beyond galleries and museums, using their work as a call to action to create political and social change. For the past hundred years, the term agitprop, a combination of agitation and propaganda, has directly reflected the intent of this work.
Agitprop! connects contemporary art devoted to social change with historic moments in creative activism, highlighting activities that seek to motivate broad and diverse publics. Exploring the complexity, range, and impact of these artistic practices—including photography, film, prints, banners, street actions, songs, digital files, and web platforms—the exhibition expands over its run within a unique and dynamic framework. It opened with works by twenty contemporary artists responding to urgent issues of the day, in dialogue with five historical case studies. A second wave of contemporary work was added on February 17, 2016 and a third will be added on April 6, 2016—with each wave of artists choosing those in the next.
These projects highlight struggles for social justice since the turn of the twentieth century, from women's suffrage and antilynching campaigns to contemporary demands for human rights, environmental advocacy, and protests against war, mass incarceration, and economic inequality.
The first round of invited artists includes Luis Camnitzer, Chto Delat?, Zhang Dali, Dyke Action Machine!, Friends of William Blake, Coco Fusco, Futurefarmers, Ganzeer, Gran Fury, Guerrilla Girls, Jenny Holzer, Los Angeles Poverty Department, Yoko Ono, Otabenga Jones & Associates, Martha Rosler, Sahmat Collective, Dread Scott, Adejoke Tugbiyele, Cecilia Vicuña and John Dugger, and, in a collaborative work, The Yes Men with Steve Lambert, CODEPINK, May First/People Link, Evil Twin, Improv Everywhere, and Not An Alternative, along with more than thirty writers, fifty advisers, and a thousand volunteer distributors.
The second round of artists includes Amnesty International and El Zeft, Jelili Atiku, David Brower and Jerry Mander, Nancy Buchanan, Interference Archive, Lady Pink, Marina Naprushkina, Not An Alternative, Occupy Museums, Shani Peters, Jenny Polak, Laurie Jo Reynolds, L.J. Roberts, Huang Rui, Inder Salim, Thenmozhi Soundararajan, Andrew Tider and Jeff Greenspan, and Ultra-red.
The third round of artists includes Andrea Bowers, Combat Paper (with Kevin Basl, Drew Cameron, and Nathan Lewis), Andy Dao and Ivan Cash, Song Dong, Enmedio, Faith47, Khushboo Gulati, The Illuminator, Marisa Morán Jahn (Studio REV-) and Yael Melamede (SALTY Features), Ato Malinda, Beatriz Santiago Muñoz, Pussy Riot, Rena Raedle and Vladan Jeremić, Manuela Ribadeneira, Visual AIDS (with Tania Anderson, Beverly Bland Boydston III, Jean Foos, Reina Gossett, Kia Labeija, Alice O'Malley, Morgan M. Page, Jamie Q, Elizabeth Marie Rivera, L.J. Roberts, Sue Schaffner, Sarinya Srisakul, and Jessica Whitbread), and Weird Allan Kaprow (Erin Charpentier, Zachary Gough, Travis Neel, and Sharita Towne). With an additional project by Alexander Dwinell, Noah Fischer, The Illuminator, Movement to Protect the People (MTOPP), Not An Alternative, Sarah Quinter of Mi Casa No Es Su Casa and Derecho a Techo, Antonio Serna of Color Bloc and Arts & Labor's Alternative Economies Working Group, Ultra-red, and Betty Yu.
Agitprop! is organized by the staff of the Elizabeth A. Sackler Center for Feminist Art: Saisha Grayson, Assistant Curator; Catherine J. Morris, Sackler Family Curator; Stephanie Weissberg, Curatorial Assistant; and Jess Wilcox, former Programs Coordinator.