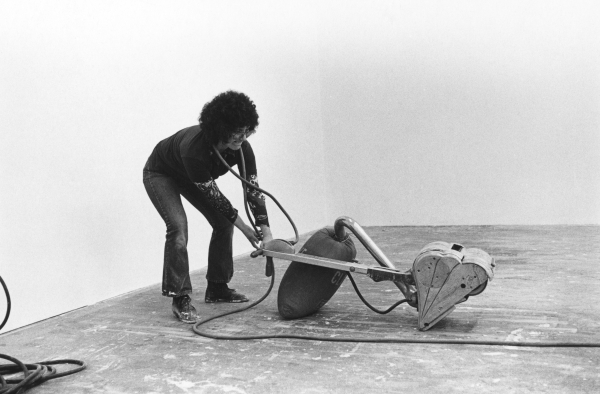 Judy Chicago's Feminist Pedagogy and Alternative Spaces
September 29–November 16, 2014
After a decade of success as an abstract artist, Judy Chicago's introduction to the women's movement in 1969 began a new phase of her career. Judy Chicago's Feminist Pedagogy and Alternative Spaces explores the pioneering educational programs and forums she helped create during this period, achievements that have become an indelible part of her legacy, encouraging subsequent generations to make and encounter art in ways that are both personal and political.
Bringing together photographs, books, prints, and a documentary film, the exhibition highlights the many projects that Chicago initiated in the early 1970s and which set the stage for her most famous collaborative undertaking, The Dinner Party (1974–79), on view in the adjacent gallery. These include the groundbreaking Feminist Art Program, Womanhouse, the Women's Building, and the Feminist Studio Workshop, all of which helped build support structures for feminist artists and audiences.
This installation is drawn from the survey exhibition Chicago in L.A.: Judy Chicago's Early Work, 1963–74, organized by Catherine J. Morris, Sackler Family Curator, with Saisha Grayson, Assistant Curator, Elizabeth A. Sackler Center for Feminist Art, Brooklyn Museum. Chicago in L.A. was on view April 24–September 28, 2014.
This exhibition is made possible by the Elizabeth A. Sackler Foundation.