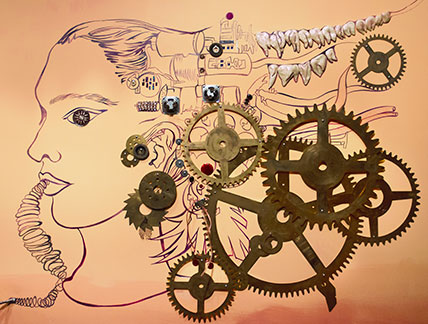 Chitra Ganesh: Eyes of Time
December 12, 2014–July 12, 2015
Exploring ideas of femininity, empowerment, and multiplicity, Brooklyn-based artist Chitra Ganesh draws inspiration from the Museum's encyclopedic collection, including representations of the goddess Kali, to create a site-specific multimedia installation for the Herstory Gallery.
Chitra Ganesh: Eyes of Time centers on a monumental mural that takes Kali, the Hindu goddess of destruction and rebirth, and other figures from Judy's Chicago's The Dinner Party as starting points for portraying female power and plurality. The artist expands on this theme by showcasing works from our Egyptian, Indian, and Contemporary collections.
For more than a decade, Ganesh has used the iconography of mythology, literature, and popular culture to bring to light feminist and queer narratives. One of her first major works, Tales of Amnesia (2002)—a zine inspired by Indian comic books that the Museum acquired out of our 2004 exhibition Open House: Working in Brooklyn—is also on view.
Chitra Ganesh: Eyes of Time is organized by Saisha Grayson, Assistant Curator, Elizabeth A. Sackler Center for Feminist Art, Brooklyn Museum.
This exhibition is made possible by the Elizabeth A. Sackler Foundation.