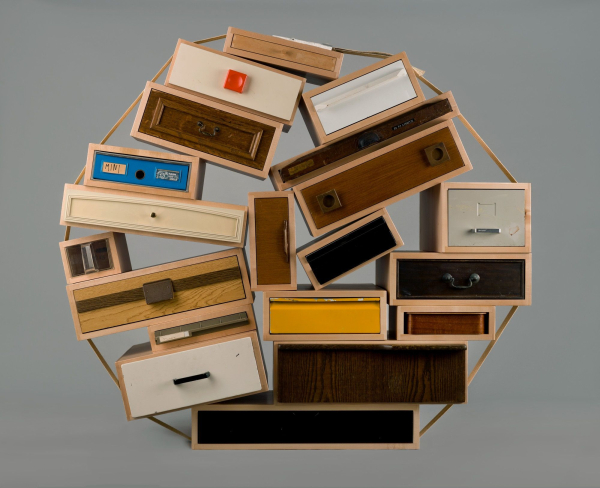 Design: 1880 to Now
Long-Term Installation
Decorative Arts and Design Galleries, 4th Floor
This newly renovated gallery exhibits an exciting range of designers and manufacturers from the late nineteenth century to the present day. Forming a core area of our Decorative Arts and Design collection of more than 30,000 objects, including furniture, ceramics, glass, and metalwork, the selected works offer competing visions of modernity, explore tensions between craft and industry, and demonstrate critical innovations in production.
Design: 1880 to Now also expands upon the traditional Eurocentric narrative, particularly by examining issues of cultural appropriation across decorative arts mediums. In one key comparison, we pair a Brooklyn-made vase from the nineteenth century that privileges the story of white settlement in the United States, alongside one from 2019 that offers a more equitable and diverse history of our borough. Other groupings consider the exploitative trade in Asian ceramics for the pleasure of European consumers, or compare the opulence of French Art Deco design with the simplicity of mid-century modern bent plywood. At every turn, we reassess and critically reinterpret the collection by delving into the Museum's long history, and how our own practices have changed over time. View these outstanding examples of over a hundred years of European and American design in a new way, with our open, modern, and accessible displays.
Design: 1880 to Now is organized by Aric Chen, independent curator and Curatorial Director, Design Miami, and Professor and Director, Curatorial Lab, Tongji University, Shanghai; with Shea Spiller, Curatorial Assistant, Arts of the Americas and Europe, Brooklyn Museum. Additional curatorial contributions provided by Catherine Futter, Senior Curator, and Elizabeth St. George, Assistant Curator, Decorative Arts, Brooklyn Museum.
Leadership support for this installation is provided by Dr. Susan Weber. Generous support is provided by Julian A. Treger.
The installation honors the late Dr. Barry R. Harwood, Curator of Decorative Arts at the Brooklyn Museum from 1988 to 2018.