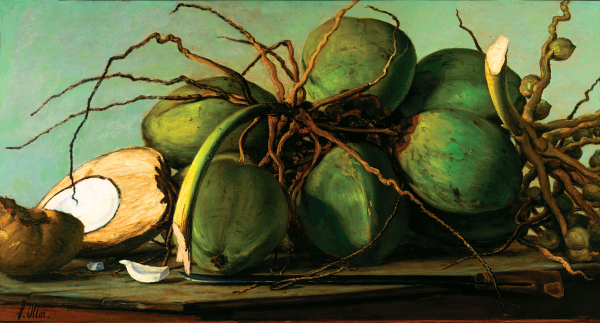 Impressionism and the Caribbean: Francisco Oller and His Transatlantic World
October 2, 2015–January 3, 2016
The painter Francisco Oller contributed greatly to the development of modern art in both Europe and the Caribbean and revolutionized the school of painting in his native Puerto Rico.
Oller emerged from the small art world of San Juan in the 1840s, spending twenty years in Madrid and Paris, where he was inspired by the art of Gustave Courbet and joined the avant-garde circles of such artists as Paul Cézanne, Camille Pissarro, and Claude Monet. While European Romanticism, Realism, and Impressionism formed a critical jumping-off point for Oller's aesthetic, his most important source of inspiration was Puerto Rico, where he painted tropical landscapes, still lifes with indigenous fruits and vegetables, and portraits of distinguished artists and intellectuals.
This is the first U.S. exhibition to present Oller's work within both its New and Old World contexts.
Impressionism and the Caribbean: Francisco Oller and His Transatlantic World is organized by Richard Aste, Curator of European Art, Brooklyn Museum, and Edward J. Sullivan, Helen Gould Sheppard Professor of the History of Art, New York University.
Edward J. Sullivan's book From San Juan to Paris and Back: Francisco Oller and Caribbean Art in the Era of Impressionism (2014) accompanies the exhibition.
Generous support for this exhibition is provided by the National Endowment for the Arts, Christie's, and JPMorgan Chase & Co. Additional support is provided by Carmen Ana Unanue, M. Salomé Galib and Duane McLaughlin, Julius Leiman-Carbia and Kyle T. Smith, Dr. Blas Reyes and Dr. Hilda Capo, the Norman and Arline Feinberg Exhibition Fund, and the Martha A. and Robert S. Rubin Exhibition Fund.
Media sponsor: