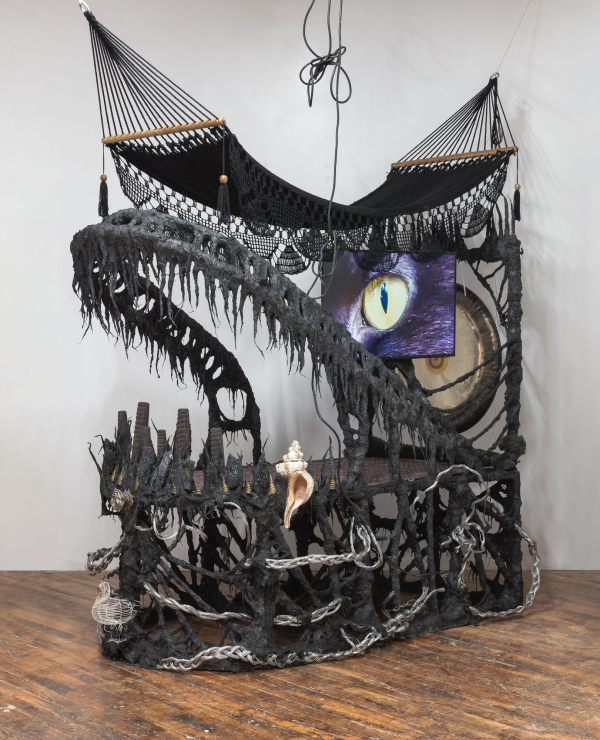 Guadalupe Maravilla: Tierra Blanca Joven
April 8–September 18, 2022
Robert E. Blum Gallery, 1st Floor
View this exhibition description in Spanish.
Drawing on the artist's personal story of migration, illness, and recovery, Guadalupe Maravilla: Tierra Blanca Joven centers the need for care and healing, particularly for the undocumented and cancer communities of which Guadalupe Maravilla is a part. In the 1980s, eight-year-old Maravilla fled El Salvador's civil war and made a perilous journey through Central America to reunite with family in the United States. Following his recovery from cancer in the 2010s, the artist devoted his practice to healing through ancient methods such as sound-as-medicine (employing vibrations and frequencies of gongs to release toxins in the body). The exhibition features new sculptures, retablo paintings, tripa chuca drawings, and sound works, as well as a Healing Room, a community space for collective care designed by teen staff.
Meaning "a young white ash/earth," Tierra Blanca Joven evokes an intergenerational experience of displacement from El Salvador: from the fifth century C.E., when the Tierra Blanca Joven volcano eruption forced the Maya people from the region by depositing a thick layer of ash over the land, to Maravilla's own migration as a result of the 1979–92 civil war and to child refugees today, who have fled the country's growing violence and are currently being held in U.S. detention centers. The artist's selection of Maya works from the Museum's collection further links Maya communal healing with displacement across time.
Guadalupe Maravilla: Tierra Blanca Joven is organized by Eugenie Tsai, John and Barbara Vogelstein Senior Curator, Contemporary Art, Brooklyn Museum, as part of Mindscapes, Wellcome's international cultural program about mental health. Related Brooklyn learning resources are organized by Lindsay C. Harris, Interim Director of Education and Teen Programs Manager, Brooklyn Museum, with Rebecca Jacobs, Wellcome Trust Mental Health Curatorial Research Fellow, Center for the Humanities, the Graduate Center, CUNY.