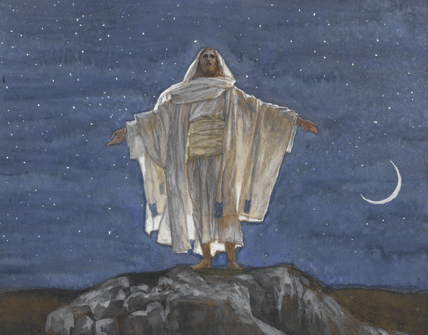 James Tissot: "The Life of Christ"
October 23, 2009–January 17, 2010
The exhibition James Tissot: "The Life of Christ" includes 124 watercolors selected from a set of 350 that depict detailed scenes from the New Testament, from before the birth of Jesus through the Resurrection, in a chronological narrative. It marks the first time in more than twenty years that any of the Tissot watercolors, a pivotal acquisition that entered the collection in 1900, have been on view at the Brooklyn Museum.
Born in France, James Tissot (1836−1902) enjoyed great success as a society painter in Paris and London in the 1870s and 1880s. While visiting the Church of St. Sulpice, he experienced a religious vision, after which he abandoned his former subjects and embarked on an ambitious project to illustrate the New Testament. In preparation for the work, he made expeditions to the Middle East to record the landscape, architecture, costumes, and customs of the Holy Land and its people, which he recorded in photographs, notes, and sketches. Unlike earlier artists, who had often depicted biblical figures anachronistically, Tissot painted his many figures in costumes he believed to be historically authentic, carrying out his series with considerable archaeological exactitude.
First presented in Paris in 1894, the watercolors were received with great enthusiasm, and a highly publicized exhibition later traveled to London and the United States, visiting Manhattan, Brooklyn, Boston, Philadelphia, and Chicago. In 1900, at the suggestion of John Singer Sargent, the Museum decided to acquire the series; the purchase funds were raised primarily by public subscription, spurred on, in part, by exhortations in the Brooklyn Daily Eagle newspaper urging readers to contribute to the campaign.
This exhibition has been organized by Judith F. Dolkart, Associate Curator, European Art. It is accompanied by a fully illustrated catalogue of the complete set of 350 images, published by the Museum in association with Merrell Publishers Ltd, London.
The exhibition was made possible, in part, with a generous award from the National Endowment for the Arts.