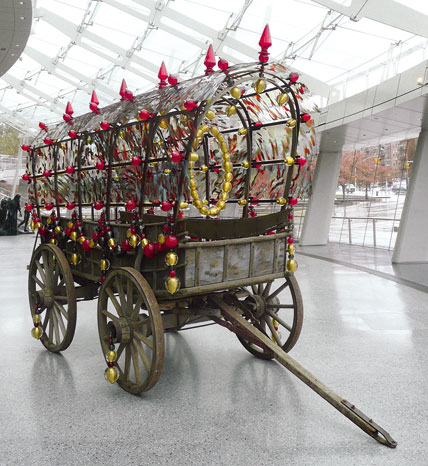 Jean-Michel Othoniel: My Way
August 17–December 2, 2012
This exhibition presents a survey of the twenty-five-year career of Jean-Michel Othoniel (French, born 1964), from his first intimate, enigmatic works made of sulfur and wax to his recent large-scale, colorful glass sculptures. Working with these mutable materials, he has fashioned a poetic visual language to explore themes surrounding the body, beauty, desire, and metamorphosis.
The title My Way references Othoniel's idiosyncratic path among various movements in contemporary art, including Arte Povera, Minimalism, Conceptual art, and Surrealism; he has also been influenced by artists such as Constantin Brancusi, Sophie Calle, and Félix González-Torres. Works on view include embellished heraldic banners, Murano glass sculptures, and magnified necklaces and knots, which conjure an intensely personal mythology while also evoking the fantasy universe of the fairytale. A Secret Happy End, a large-scale sculpture in the Museum's collection, will be on display in the first-floor lobby in advance of the exhibit, July 25–December 2, 2012.
Jean-Michel Othoniel: My Way is organized by the Centre Pompidou. The Brooklyn Museum presentation is organized by Lisa Small, Curator of Exhibitions, Brooklyn Museum.
Generous support for this exhibition was provided by Galerie Perrotin. Additional support was provided by the Martha A. and Robert S. Rubin Exhibition Fund, the Stephanie and Tim Ingrassia Contemporary Art Exhibition Fund, the Institut français, the Ministry of Foreign Affairs, and the Ministry of Culture.
Media sponsor