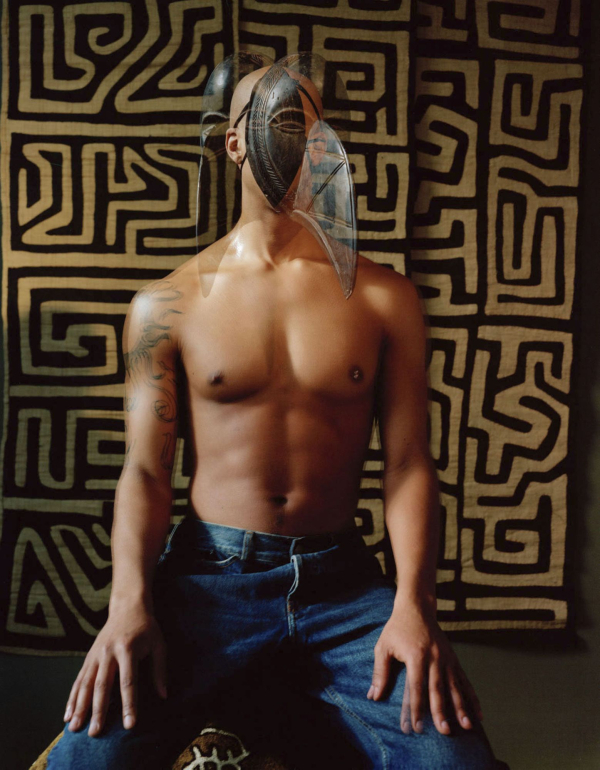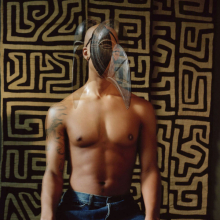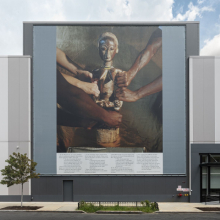 In conjunction with the UOVO Prize, John Edmonds was commissioned to create a large-scale installation on the façade of UOVO's art storage and services facility in Bushwick, Brooklyn. For this new work, Edmonds repurposed his 2019 photograph Whose Hands?. It features several hands forcefully grasping a figurative wooden sculpture of a mother and child, which was made by the Baule people of Ivory Coast. Beneath the photograph, the artist added notations from Susan M. Vogel's 1997 book, Baule: African Art, Western Eyes. Working with Studio Lin, a graphic design firm in New York City, Edmonds also produced a small, supplementary newsprint publication with more than five hundred footnotes about Baule art and culture, as well as excerpts from Alain-Michel Boyer's Baule: Visions of Africa (2008). The supplement is available to the public in the UOVO: BROOKLYN lobby.
"A Lesson In Looking With Reverence is a research-based project and a meditation on the state of African art and the conflicted nature of its acquisition," Edmonds said. "Susan M. Vogel's Baule: African Art, Western Eyes has been a source that I have returned to repeatedly to understand my own positionality as an African American artist looking at such layered material of the diaspora. Ultimately, I hope this work can exist as a threshold for museums and other cultural institutions to move forward with equity and repair."
John Edmonds: A Sidelong Glance
October 23, 2020–August 8, 2021
Stephanie and Tim Ingrassia Gallery of Contemporary Art, 4th Floor
John Edmonds: A Sidelong Glance is presented as part of the inaugural UOVO Prize for an emerging Brooklyn artist. John Edmonds is best known for his use of photography and video to create sensitive portraits and still lifes that center Black queer experiences and reimagine art historical precedents. This is the artist's first solo museum exhibition and features new and recent photographic portraits and still lifes of Central and West African sculptures alongside friends and acquaintances from Edmonds's creative community in New York. These works explore the intersections of representation, modernity, and identity in the African diaspora.
For this exhibition, Edmonds was invited to engage directly with our Arts of Africa collection, photographing select objects donated to the Museum in 2015 by the estate of the late African American novelist Ralph Ellison. The presentation of the collection objects, along with Edmonds's excerpts from scholarly texts on Baule art, considers the distinct role that individuals and institutions—from collectors to art historians to art museums—play in the bestowal of meaning, authenticity, and value. While Edmonds's work recognizes the persistence of power imbalances, it offers new aesthetic and conceptual possibilities.
John Edmonds: A Sidelong Glance draws its title from an essay by scholar Krista Thompson that looks at perspectives on Black diaspora art history, and how they have shifted from examining relationships with Africa to questioning forms of representation in Western cultures.
Edmonds is the inaugural recipient of the UOVO Prize for an emerging Brooklyn artist. As the awardee, he receives a solo exhibition at the Brooklyn Museum, a commission for a 50x50-foot art installation on the façade of the new UOVO: BROOKLYN art storage and services facility, and a $25,000 unrestricted cash grant. The mural is on view through spring 2021.
John Edmonds: A Sidelong Glance is curated by Drew Sawyer, Philip Leonian and Edith Rosenbaum Leonian Curator, Photography, Brooklyn Museum, and Ashley James, former Assistant Curator, Contemporary Art, Brooklyn Museum (currently Associate Curator, Contemporary Art, Solomon R. Guggenheim Museum).
The UOVO Prize is made possible by

Generous support for this exhibition is provided by the Rockefeller Brothers Fund.