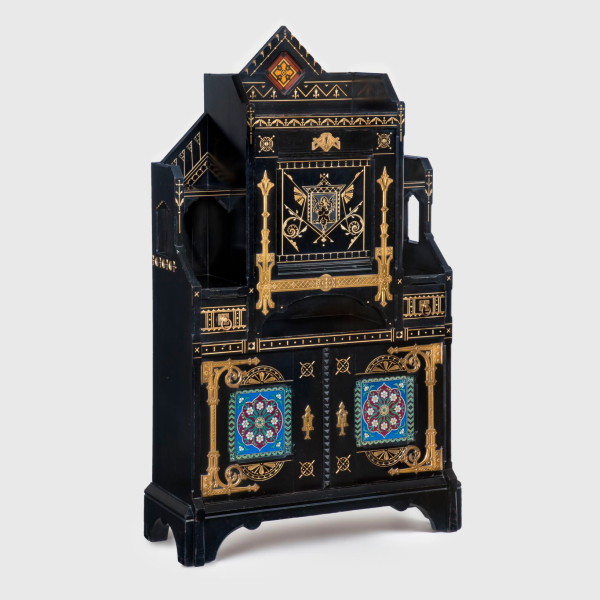 Modern Gothic: The Inventive Furniture of Kimbel and Cabus, 1863–82
July 2, 2021–February 13, 2022
Over the course of their nearly twenty-year partnership, Anton Kimbel (1822–1895) and Joseph Cabus (1824–1898) developed one of New York City's leading furniture and decorating firms. Sons of German and French cabinetmaking families, they defined a new take on Modern Gothic design, a style that originated in Britain and was embraced by a growing middle class in the post–Civil War United States. Combining British and continental European design sources, Kimbel and Cabus's furniture forms featured bold, clean lines and rich surface decoration, and the firm used innovative production techniques to offer these striking artistic objects at a variety of prices.
Modern Gothic: The Inventive Furniture of Kimbel and Cabus, 1863–82 is the first museum exhibition to trace Kimbel and Cabus's American success story with new scholarship and primary sources, offering fresh insight into the history of the enterprising design team, their ambitious marketing practices, and their forward-looking clientele. Over sixty objects are on view, with rare examples of furniture from their famous chair designs and dramatic, monumental desks to their quirky, smaller forms decorated with fanciful paper panels, as well as books and ephemera.
Modern Gothic: The Inventive Furniture of Kimbel and Cabus, 1863–82 is organized by the Brooklyn Museum and curated by guest curator Barbara Veith in consultation with Medill H. Harvey, Ruth Bigelow Wriston Associate Curator of American Decorative Arts and Manager of the Henry R. Luce Center, Metropolitan Museum of Art, and Shea Spiller, Curatorial Assistant, Arts of the Americas and Europe, Brooklyn Museum.
Leadership support for this exhibition is provided by Deedee and Barrie Wigmore.