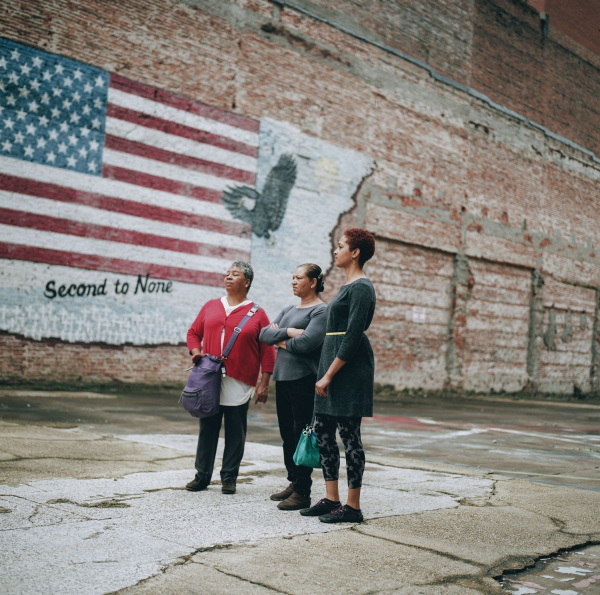 The Legacy of Lynching: Confronting Racial Terror in America
July 26–October 8, 2017
The Legacy of Lynching: Confronting Racial Terror in America seeks to spark an honest conversation about the legacy of racial injustice in America today. Coordinated in collaboration with the Equal Justice Initiative (EJI) and Google, this exhibition presents EJI's groundbreaking research into the history of lynchings and connects it to artworks and archival material from the Brooklyn Museum's collections.
The exhibition also features EJI's plans to open a national monument in 2018 in Montgomery, Alabama, named The Memorial to Peace and Justice, commemorating victims of racial terror lynching. The memorial will be accompanied by a museum, "From Enslavement to Mass Incarceration," exploring the legacy of slavery, segregation, and mass incarceration.
The narrative of racial difference continues to haunt our country. After slavery was formally abolished, in 1865, racial terror lynching emerged in the late nineteenth century, and continued until about the middle of the twentieth century, as a vicious tool of racial control, to reestablish white supremacy and suppress black civil rights. The aftereffects are still with us today—from issues of mass incarceration to disproportionate sentencing of people of color.
Throughout the Brooklyn Museum's history, our exhibitions and public programs have confronted difficult and urgent issues because we believe that great art and courageous conversations contribute to a more just, civic, and empathetic world. We are proud to showcase the work of six photographers commissioned by EJI to illustrate the oral histories on view—Melissa Bunni Elian, Kris Graves, Raymond Thompson, Andre Wagner, Bee Walker, and Rog Walker—and the documentary Uprooted, as well as Museum collection artists whose practices respond to racism in the United States in several forms: Sanford Biggers, Mark Bradford, Elizabeth Catlett, Melvin Edwards, Theaster Gates, Rashid Johnson, Titus Kaphar, Jacob Lawrence, Glenn Ligon, Dread Scott, Clarissa T. Sligh, Kara Walker, and Jack Whitten.
To approach this topic respectfully, the exhibition focuses on personal stories. It does not contain explicit photographs or illustrations.
The Legacy of Lynching: Confronting Racial Terror in America is organized by the Brooklyn Museum and the Equal Justice Initiative with support from Google. Learn more about the memorial and EJI's Research on lynching.