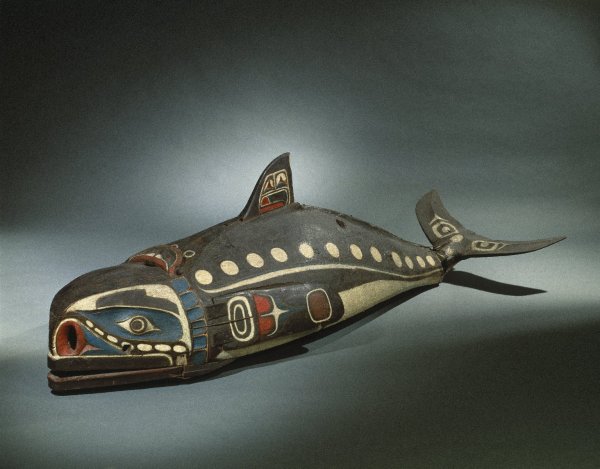 Living Legacies: The Arts of the Americas
April 16, 2004–March 18, 2008
Living Legacies: The Arts of the Americas is a thematic installation that features the Museum's world-renowned collections of indigenous art from North, Central, and South America, dating from about 3000 B.C.E. to the present. The three exhibitions currently on view comprise the first of two phases that, when completed in 2006, will present over four hundred objects of remarkable beauty, some of which have never before been shown.
The first phase of Living Legacies presents approximately one hundred objects in three thematic exhibitions: "Threads of Time: Woven Histories of the Andes," featuring the Museum's world-renowned textile collection; "Enduring Heritage: Arts of the Northwest Coast," recontextualizing sculptural objects; and "Stories Revealed: Writing Without Words," emphasizing the universality of the indigenous pictorial tradition. Each section includes examples of contemporary works, demonstrating the continuity of these artistic traditions and underscoring their role as living legacies for the indigenous peoples of the Americas.
The exhibitions are installed in the Museum's grand Hall of the Americas, located on the first floor adjacent to the Museum lobby. The hall is a 12,000-square-foot gallery that is 24 feet high and features 16 freestanding columns. This soaring space, designed in 1910 by the architecture firm McKim, Mead & White, is divided into thematic areas that, although visually and conceptually distinct, allow the visitor to move easily from one to the other. Chief Designer Matthew Yokobosky incorporated colorful, abstract murals into the surrounding walls of the gallery to resonate with each adjacent theme. An Andean landscape is depicted next to "Threads of Time," for example, and an abstract cedar forest mural echoes the Northwest Coast totem poles. Maps, photographs, drawings, diagrams, and wall panels and labels written in English and Spanish enhance the viewer's understanding of the artworks.