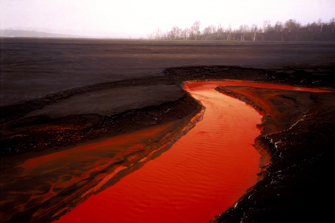 Manufactured Landscapes: The Photographs of Edward Burtynsky
October 7, 2005–January 15, 2006
The first major retrospective of the internationally renowned photographer Edward Burtynsky brings together more than 60 works by the Toronto-born artist from both public and private collections.
Burtynsky, a modern-day counterpart to nineteenth-century landscape photographers, examines the intersection between land and technology, creating images of unorthodox beauty. His subjects include locations that have been changed by modern industrial activity such as mining, quarrying, rail-cutting, recycling, and oil refining.
Several adventurous projects have taken Burtynsky on a worldwide quest to photograph extraordinary landscapes. Most recently, he traveled to the construction site of the Three Gorges Dam, the world's largest hydroelectric engineering project, located on the Yangtze River in the People's Republic of China. The dam is of unprecedented proportions, and it has required the relocation of millions of people. In addition to the dam itself, Burtynsky also photographed upriver sites of mass displacement, where residents destroyed their own homes at the behest of the government, recycling many of the materials in order to rebuild on higher ground.
With the Three Gorges Dam Project, Burtynsky continues his exploration of the relationship between man, nature, and "progress." Using a large format viewfinder camera, he punctuates his works with remarkably rich detail and creates order out of the chaos of "ruined" environments.
Manufactured Landscapes: The Photographs of Edward Burtynsky is organized and circulated by the National Gallery of Canada. The curator of the Brooklyn Museum's presentation is Marilyn Kushner, Curator and Chair of the Department of Prints, Drawings, and Photographs.
An illustrated catalogue, published by the National Gallery of Canada in association with Yale University Press, accompanies the exhibition. It includes essays by Mark Haworth-Booth, Curator of Photographs at the Victoria and Albert Museum in London; Kenneth Baker, art critic for the San Francisco Chronicle; and Lori Pauli, Assistant Curator of Photographs at the National Gallery of Canada.