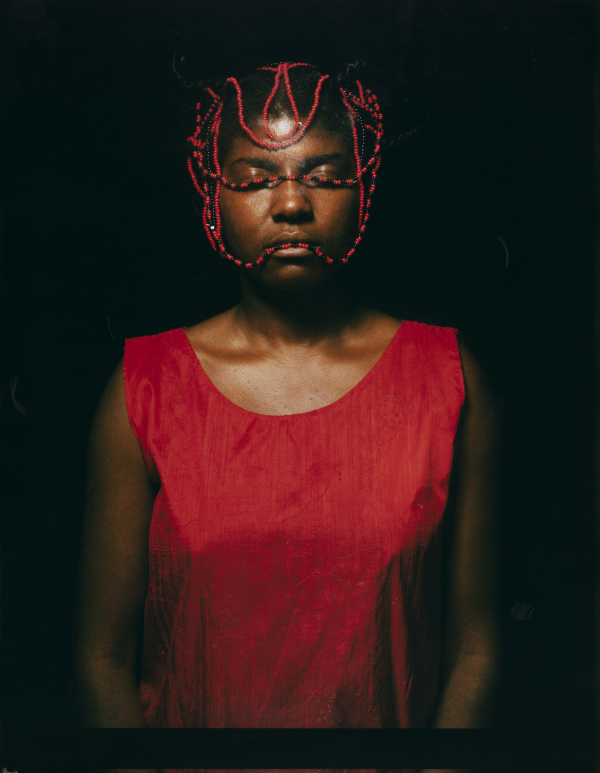 María Magdalena Campos-Pons: Behold
September 15, 2023–January 14, 2024
Elizabeth A. Sackler Center for Feminist Art and Overlook, 4th Floor
Esta exposición cuenta con fichas informativas en español. Desplácese hacia abajo para obtener más información.
María Magdalena Campos-Pons: Behold is a monographic exhibition of a visionary voice in photography, immersive installation, painting, and performance. Spanning nearly four decades of visually engaging artworks, the exhibition explores Campos-Pons's prescient and sensorial work—transporting viewers across geographies, mediums, and spiritual practices. In her explorations of migration, diaspora, and memory, Campos-Pons draws from her family story to examine the global histories of enslavement, indentured labor, motherhood, and migration.
The first multimedia survey of the artist's work since 2007, Behold highlights the artist's dedication to creating new modes of understanding, as well as her engagement with interconnected historical and present-day challenges. These themes are examined through Campos-Pons's performance-based practice and centering of Yoruba-derived Santería symbolism, as well as her work with communities in Boston, Cuba, Italy, and Nashville (her current residence).
---
María Magdalena Campos-Pons: Behold es una exposición monográfica de una voz visionaria de la fotografía, la instalación inmersiva, la pintura y la performance. La muestra, que abarca casi cuatro décadas de obras de arte obras de arte de un gran atractivo visual, explora el trabajo premonitorio y sensorial de la artista, y transporta a quienes la visitan por diversas geografías, medios y prácticas espirituales. En sus indagaciones sobre la migración, la diáspora y la memoria, Campos-Pons se inspira en la historia de su familia para analizar las historias mundiales de la esclavitud, los trabajos forzosos, la maternidad y la migración.

En Behold, el primer análisis de la obra de la artista desde 2007, se pone de relieve la dedicación de Campos-Pons para crear nuevas formas de entendimiento y su compromiso con los retos históricos y modernos conectados entre sí. Estos temas se examinan mediante la práctica de la artista basada en la performance y centrada en el simbolismo de la santería de origen yoruba, así como en su trabajo con las comunidades en Boston, Cuba, Italia y Nashville (su lugar de residencia actual).
María Magdalena Campos-Pons: Behold is organized by the Brooklyn Museum and the J. Paul Getty Museum. The exhibition is curated by Carmen Hermo, Associate Curator, Elizabeth A. Sackler Center for Feminist Art, Brooklyn Museum, and Mazie Harris, Assistant Curator, Department of Photographs, J. Paul Getty Museum, with Jenée-Daria Strand, former Curatorial Associate, Elizabeth A. Sackler Center for Feminist Art, Brooklyn Museum.
Major support for this exhibition is provided by the Brooklyn Museum's Contemporary Art Committee, the Rockefeller Brothers Fund, the Jacques and Natasha Gelman Foundation, and by Rishabh and Lopa Mehrotra. Generous support for this exhibition is provided by Debbie and Mitchell Rechler, Jodi and Hal Hess, and the Elizabeth A. Sackler Museum Educational Trust. Additional support is provided by Phyllis Rappaport, Shelley and Donald Rubin, Estrellita B. and Daniel Brodsky, Jorge M. and Darlene Pérez, Amitha Raman, June Michel McCormack, and Robert Nagle.