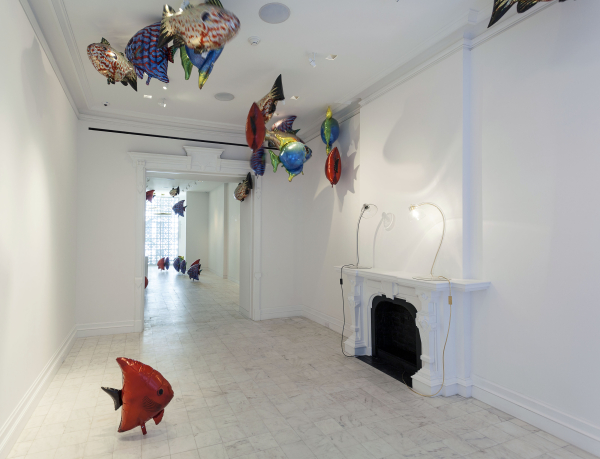 Philippe Parreno: My Room Is Another Fish Bowl
October 5–November 20, 2016
Philippe Parreno's elegant and hypnotic installation My Room Is Another Fish Bowl is a delightful, participatory work of art that encourages audiences to contemplate the passage of time and shifting patterns of light and atmospheric conditions.
The installation comprises approximately 150 colorful fish-shaped Mylar balloons that float at various heights, moving gently through the glass-enclosed pavilion in response to human interaction and climatic changes. Visible from the street and in constant, delicate motion, the fish indeed appear as if in a large, architectural fishbowl.
Through the fish's ceaseless movement, Parreno hopes to activate the senses beyond the visual, focusing on how we experience the unfolding of time as an active, narrative phenomenon—a kind of performance. In many of his exhibitions, the objects and sculptures do perform: walls move, pianos play, screens descend, and illuminated theater marquees blink on and off.
The airborne fish recall a 1997 work by Parreno composed of myriad Mylar balloons in the shape of speech bubbles that hover on the ceiling. Perhaps in homage to Andy Warhol's levitating Silver Clouds (1966), those empty speech bubbles invite viewers to project their own thoughts onto them. In a similar vein, the fish swimming effortlessly through space are an invitation to dream.
Philippe Parreno: My Room Is Another Fish Bowl is organized by the Brooklyn Museum.
Generous support for this exhibition is provided the FUNd.