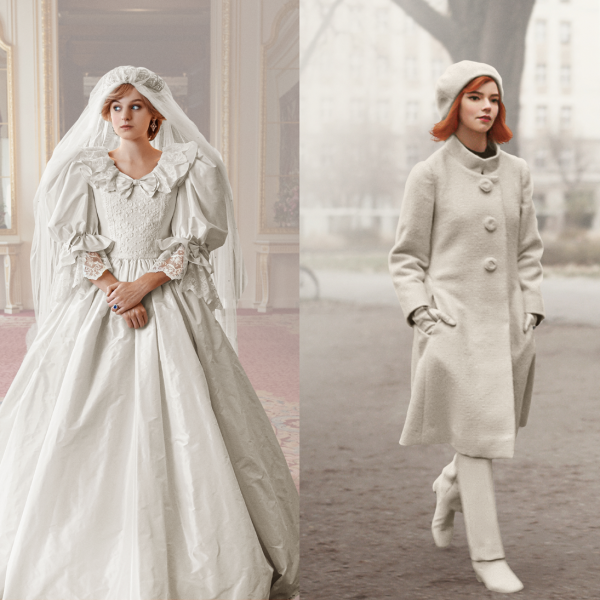 The Queen and The Crown: A Virtual Exhibition of Costumes from "The Queen's Gambit" and "The Crown"
October 30–December 13, 2020
In conjunction with the premiere of Netflix's original limited series The Queen's Gambit and the fourth season of The Crown, the Brooklyn Museum presents a virtual exhibition of digitally rendered and interactive 360-degree views of costumes from the two series, along with related objects from our collection, all set within a rendering of the Museum's soaring Beaux-Arts Court.
Designed by Gabriele Binder, costumes for The Queen's Gambit reflect the growing sophistication and self-assurance of the main character, fictional 1960s chess champion Elizabeth "Beth" Harmon, often incorporating structural lines and black-and-white patterns, materializing elements of the game into her wardrobe. Emmy-winning costume designer Amy Roberts constructed detailed outfits inspired by looks worn by the formidable twentieth-century British women in The Crown, including Queen Elizabeth II, Princess Margaret, Princess Diana, and Prime Minister Margaret Thatcher.
Works from the Museum collection were selected by Matthew Yokobosky, Senior Curator, Fashion and Material Culture. Highlights include an example of the ancient Egyptian board game senet (circa 1938–1799 B.C.E.), American photographer Arthur Tress's Boys on Checker Floor, Far Rockaway, NY (1973), and Guyanese British artist Hew Locke's Koh-i-noor (2005), a portrait of Queen Elizabeth II made from hundreds of plastic toys and trinkets, among others.
The virtual exhibition draws on our history of organizing and presenting exhibitions connecting fashion design and Museum objects, including Killer Heels: The Art of the High-Heeled Shoe (2014), David Bowie is (2018), and Pierre Cardin: Future Fashion (2019).
The exhibition includes a virtual panel discussion with Binder, Roberts, and Yokobosky, who go behind the scenes to explore insights into the wardrobe creations for the two shows. The panel is moderated by Academy Award–winning costume designer Ruth E. Carter.
The Queen and The Crown is created by Netflix in collaboration with the Brooklyn Museum, and curated by Matthew Yokobosky, Senior Curator, Fashion and Material Culture, Brooklyn Museum.
Every exhibition at the Brooklyn Museum is a collaboration. Many thanks to our team members who participated in a series of cross-departmental discussions that directly shaped the development and production of The Queen and The Crown.