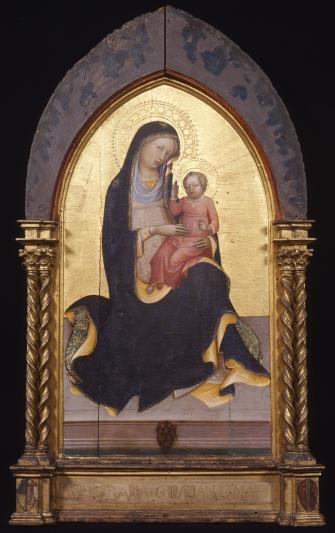 Renaissance Paintings
October 3, 2003–September 19, 2006
The newly reunited masterwork of Nardo di Cione on view is the most important fourteenth-century altarpiece in the United States. A group of panel paintings, most from the fifteenth century, or quattrocento, a term that refers broadly to the early Renaissance in Italy, represents a cross-section of religious art from the early Italian Renaissance.
Many of these pictures use gold backgrounds to evoke a sense of the eternal realm. It may at first appear that all gold-ground paintings look alike. All were executed in egg-based tempera on wood using a similar technique in the layering of paint. But within the conventions imposed by the medium, close examination reveals a wide variety of brushwork, some of it quite lively. In addition, gestures and facial expressions differ from artist to artist.
The majority of the pictures on view were painted either in Florence or Siena, the two great centers of early Italian Renaissance painting. Florence was known for the monumental style pioneered by the fourteenth-century master Giotto (1267–1337), while Siena's artists distinguished themselves with the delicacy of their lyrical and sinuous lines. Two small pictures of the Madonna and Child are Flemish and represent the Northern approach to this universal theme both in their style, with its attention to crisp detail, and in their medium, with the use of oil paint instead of tempera.
The way we look at these pictures in our time differs dramatically from the experience of Renaissance viewers. In the Museum, we may admire the paintings' aesthetic qualities, but many original viewers—gazing upon them in a church or private chapel—also understood them to be imbued with spiritual power. Not only the Christian symbolism of the works, but also the frontal orientation of the holy subjects—toward the viewer—prompted spiritual meditation. The saints' gestures of reverence for the Madonna and Child, the Madonna's compassion for her son, and Christ's suffering on the Cross all offered powerful visual models of piety for the faithful to follow. In addition, the careful rendering of the figures heightened the sense of veneration, as did the use of precious materials.
This exhibition is made possible by the Iris and B. Gerald Cantor Foundation in celebration of its 25th Anniversary. Additional support is provided by Arthur Richenthal and other generous friends of the Museum.