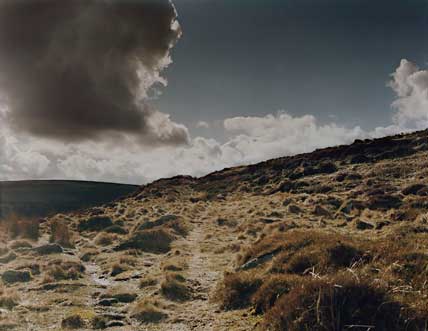 Sam Taylor-Wood: "Ghosts"
October 30, 2010–August 14, 2011
Ghosts, Sam Taylor-Wood's 2008 photographic exploration of the Yorkshire Moors, was inspired by Emily Brontë's classic Victorian novel Wuthering Heights, whose famously atmospheric descriptions of the bleak, wild landscape almost turn that locale into the novel's third major character. For many years Taylor-Wood kept a country house in the same West Yorkshire region where Emily Brontë and her literary and artistic family lived. In the ten images from the series to be shown at the Brooklyn Museum, Taylor-Wood captures the stark and haunting character of the windswept moors and gray skies surrounding Top Withens, a ruined farmhouse and the alleged setting of Wuthering Heights. Drawing inspiration from the Brontë sisters' gothic romantic fiction, the artist followed the footpath from the stone parsonage where the Brontës lived and died up across the moors to Top Withens.
Sam Taylor-Wood: "Ghosts" is the latest exhibition in the Herstory Gallery of the Elizabeth A. Sackler Center for Feminist Art, which is devoted to subjects that explore the significant contributions of the women named in Judy Chicago's The Dinner Party.
This exhibition is organized by Catherine Morris, Curator of the Elizabeth A. Sackler Center for Feminist Art, Brooklyn Museum.