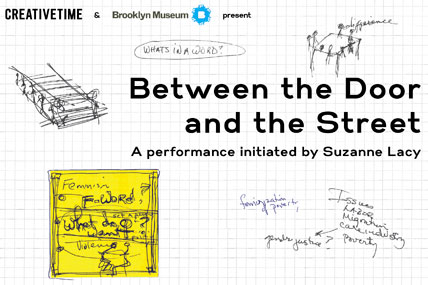 Artist Project: Between the Door and the Street
October 10–October 20, 2013
On the afternoon of Saturday, October 19, women and men of all ages sat in small groups on the stoops of Park Place and—in the long-standing tradition of Brooklyn's stoop culture—engaged in unique and unscripted dialogues as part of Between the Door and the Street, a free public performance initiated by internationally celebrated artist Suzanne Lacy.
At each stoop, groups talked about a particular social-justice topic in relation to feminism, addressing issues such as equity, changing gender roles, labor, violence, poverty, and migration. The audience was able to wander freely between stoops to observe and absorb the candid commentary, shaping a new understanding of what feminism means to different people in today's society.
Organized with the input of nineteen advisors, nearly eighty organizations, more than 300 individual participants, 120 volunteers, and the Park Place community, this was truly a collaborative effort.
As part of the project, Lacy also posed a series of questions to the Brooklyn community at large through an architectural intervention on the Museum's own front stoop, on view October 10–20. Through these prompts, she literally and metaphorically wrapped the building in feminist discourse.
The weekend before the project, on Saturday, October 12, the Museum hosted a public Artist Talk among Lacy, Catherine Morris, Curator of the Elizabeth A. Sackler Center for Feminist Art, and Nato Thompson, Chief Curator at Creative Time. They talked about the project and the fascinating process behind its creation.
For more information, visit creativetime.org/suzannelacy.
Between the Door and the Street was presented by the Elizabeth A. Sackler Center for Feminist Art and Creative Time.
Lead project support for Between the Door and the Street was provided by Stephanie Ingrassia, the Elizabeth A. Sackler Foundation, Katie Michel, Barbara Nessim, Ellen Taubman, Ippolita Rostagno, Carol Goldberg, Diana Wege Sherogan, Annette Blum, Louise Eastman, Toby Devan Lewis, Brooke Garber Neidich, Pamella Roland, Martine Trink Rubenstein, Victoria E. Schonfeld, Elizabeth Smith, Frederieke Taylor, Barbara Tober, Donna Harkavy, Joyce Pomeroy Schwartz, Claudia Baez, and Riva Blumenfeld. List in formation.