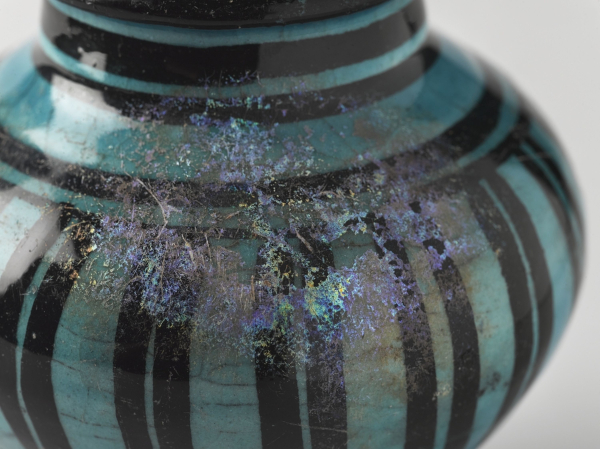 Syria, Then and Now: Stories from Refugees a Century Apart
October 13, 2018–January 13, 2019
Syria, Then and Now: Stories from Refugees a Century Apart recounts the changing stories of refugees in Syria over time—then and now—and places their differing experiences, a century apart, in a global context. Around the turn of the twentieth century, Syria gave shelter to refugees from Russia—ethnic Circassians, displaced by the Russian conquest of the Caucasus. Today, a new generation of refugees seeks to escape Syria itself, after the regime of Bashar al-Assad used violence to put down pro-democracy protests and civil war broke out in 2011.
The exhibition presents thirteenth-century Ayyubid ceramics that were unearthed in Raqqa, Syria, by the Circassian refugees, who were searching for bricks to build homes. The ceramics are drawn from our collection and include vases, jugs, bowls, and oil lamps.
The plight of current-day Syrian refugees is the focus of three contemporary artists whose work is also on view. Ginane Makki Bacho draws on her experience of civil war in Lebanon and the Syrian refugee crisis in the region. Issam Kourbaj engages the ordeal endured by Syrians attempting to escape by sea. Mohamad Hafez alludes to the traumas refugees carry with them, and the homes they left behind. Each of them tells a different story, but in the end each calls upon our common humanity for compassionate attention to refugees' precarious situation worldwide.
Syria, Then and Now: Stories from Refugees a Century Apart is curated by Ayşin Yoltar-Yıldırım, Hagop Kevorkian Associate Curator of Islamic Art, Brooklyn Museum, as part of the Arab Art & Education Initiative.