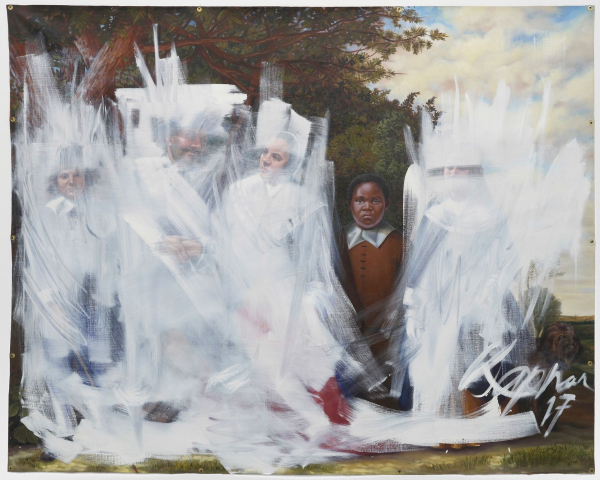 One: Titus Kaphar
June 21–October 13, 2019
Titus Kaphar's Shifting the Gaze draws our attention to narratives from the past that illuminate conditions in the present. Kaphar completed the painting, a loose copy of a seventeenth-century family portrait by the Dutch artist Frans Hals, onstage during a 2017 TED talk. In a dramatic finale, he picked up a large paint brush and proceeded to obliterate many of the figures in the painting with broad strokes of white paint, leaving a Black boy as the center of the composition. By shifting the spectator's gaze to the boy, believed to be the family servant, Kaphar brings into focus individuals who are often deliberately overlooked in the historical record, for reasons that include race, class, or gender. By doing so, he makes a case for the need to write new, more honest and inclusive histories.
One: Titus Kaphar is presented in conjunction with our exhibition Rembrandt to Picasso: Five Centuries of European Works on Paper, a selection of historical artworks from our European Art collection. As part of the exhibition, Kaphar provides written commentary on selected drawings and prints on view, helping to shine a light on the Eurocentric bias of the art-historical canon.
One: Titus Kaphar is curated by Eugenie Tsai, John and Barbara Vogelstein Senior Curator, Contemporary Art, Brooklyn Museum.