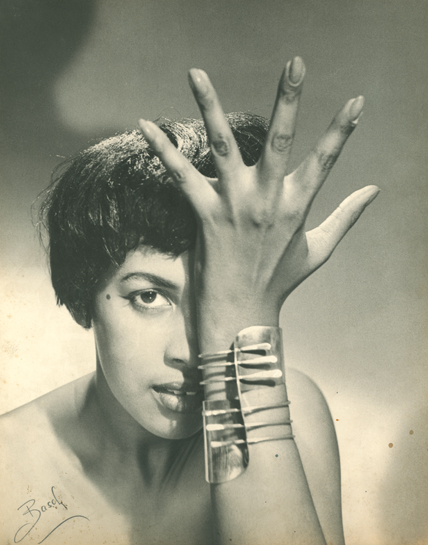 From the Village to Vogue: The Modernist Jewelry of Art Smith
Drawn from the Museum's collection, this exhibition features twenty-four pieces of silver and gold jewelry created by Art Smith (1917–1982), one of the leading modernist jewelers of the mid-twentieth century. Trained at Cooper Union, Smith, an African American, opened his first shop on Cornelia Street in Greenwich Village in 1946. Inspired by surrealism, biomorphism, and primitivism, Smith's jewelry is dynamic in its size and form. The jewelry dates from the late 1940s to the 1970s and includes his most famous pieces, such as a "Patina" necklace inspired by the mobiles of Alexander Calder and a "Lava" bracelet, or cuff, that extends over the entire lower arm. The presentation is enhanced by archival material from the artist's estate, including sketches, his shop's original sign, his tools, and period photographs of models wearing his creations. Also included is a rare copper cuff by Winifred Mason, Smith's mentor and first employer in Greenwich Village.
From the Village to Vogue was organized by Barry R. Harwood, Curator of Decorative Arts, Brooklyn Museum, and includes a small catalogue.
Tour Schedule with Dates
June 21–September 13, 2015
June 15–December 7, 2014
February 21–May 18, 2014
May 14, 2008–June 19, 2011