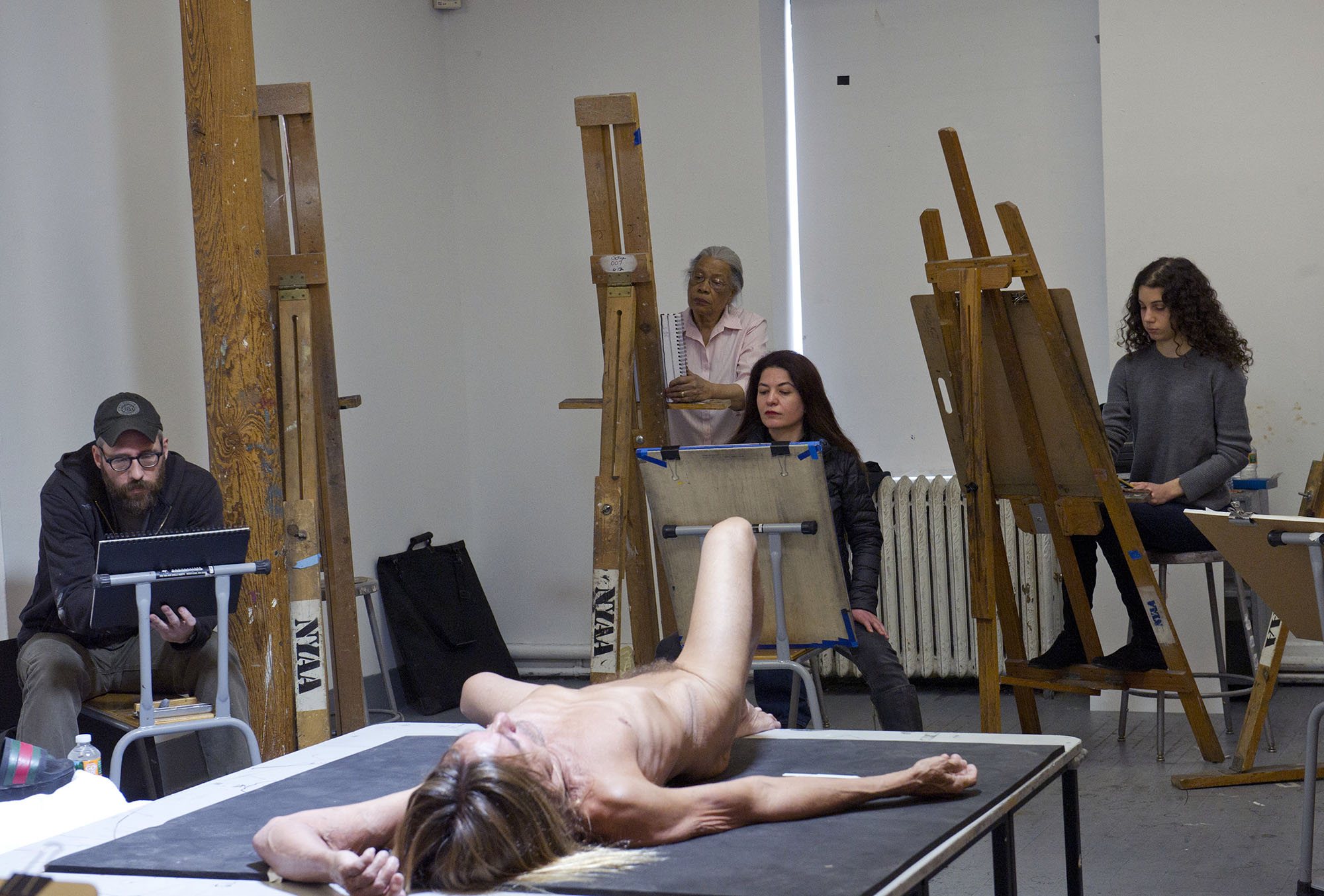 Iggy Pop Life Class by Jeremy Deller
Iggy Pop Life Class by Jeremy Deller uses the traditional life drawing class as a stage for a performative event with Iggy Pop as model and subject. The exhibition presents the resulting drawings along with works from the Museum's historical collections, chosen by Deller, that depict the male body, examining shifting representations of masculinity throughout history.
The exhibition is composed of 53 drawings by twenty-two artists from varying backgrounds who participated in a life drawing class with the musician Iggy Pop. Deller's choice of Iggy Pop as the model is central to the concept of the exhibition. As Deller notes, "Iggy Pop has one of the most recognizable bodies in popular culture. A body that is key to an understanding of rock music, and that has been paraded, celebrated, and scrutinized through the years in a way that is unusual for a man. It is also fair to say that it has witnessed a lot. It was for these reasons that I wanted him to sit for a life class."
A pioneer rock musician—as a singer, songwriter, musician, and actor—Pop began performing in the 1960s, becoming known for strenuous and unpredictable stage performances that often left his body battered and cut. These corporeally charged acts radically confronted taboos of male sexuality. Deller's collaboration with Pop in this performative project casts readings of gender in a new light, as the rock star's body invites comparison with historical depictions of masculinity.
Participating venues will have the option to borrow the Brooklyn Museum objects or collaborate with Deller on a selection from their respective collection.
Iggy Pop Life Class by Jeremy Deller is organized by Sharon Matt Atkins, Vice Director of Exhibitions and Collections Management, Brooklyn Museum. The accompanying book is published by the Brooklyn Museum in association with Heni Publishing, London. This publication is supported by the FUNd.
Tour Schedule with Dates
Brooklyn Museum, New York
November 4, 2016–June 18, 2017