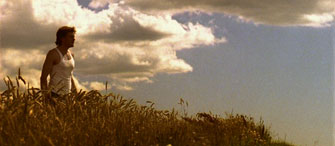 Jesper Just: Romantic Delusions
This exhibition presents four films by the critically acclaimed Danish artist Jesper Just in his first solo exhibition at a New York museum: No Man Is an Island (2002), Bliss and Heaven (2004), The Lonely Villa (2004), and a new film, Romantic Delusions (2008), premiering in the U.S. at the Brooklyn Museum. Jesper Just: Romantic Delusions marks the first time an all-film exhibition will be presented at the Brooklyn Museum.
Jesper Just's films explore the complexities and contradictions of human emotion. Using overlapping cinematic, musical, and literary references, his films adopt popular songs to communicate the vulnerability and insecurity in relationships. These short films, all under ten minutes, appropriate Hollywood's polished production values but then deviate from the usual narrative story arc in favor of creating a film noir atmosphere rather than a resolved plot. His films comment on gender politics and the possibility of relationships across a generational divide, but more important, they present the broader existential search for identity.
Jesper Just was born in Copenhagen in 1974, and is a graduate of the Royal Academy of Fine Arts, Copenhagen. His work is in the collections of institutions such as the Tate in London, the Castello di Rivoli in Turin, and the Carnegie Museum of Art in Pittsburgh.
Jesper Just: Romantic Delusions is organized by the Brooklyn Museum. The film Romantic Delusions is commissioned by Liverpool Biennial International 08; U-TURN Quadrennial for Contemporary Art; Galleri Christina Wilson, Copenhagen; the Danish Arts Council; and Galerie Emmanuel Perrotin, Paris.
The exhibition publication is made possible by the Perry Rubenstein Gallery, New York, and the Victoria Miro Gallery, London.