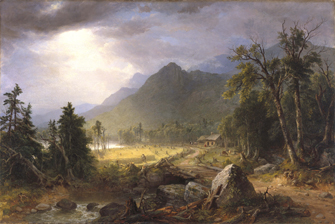 Kindred Spirits: Asher B. Durand and the American Landscape
This exhibition of nearly sixty works is the first monographic exhibition devoted to Asher B. Durand's career in more than thirty-five years. Durand was both an influential artist and the acknowledged dean of the American landscape school from his election as president of the National Academy of Design in 1845 until his death at the age of ninety in 1886. Consequently, Durand was the natural choice for the Brooklyn Institute's very first commission: The First Harvest in the Wilderness (1855)—the cornerstone of the Brooklyn Museum's American painting collection. Newly discovered works, new information, and new approaches to the study of art history necessitate another look at Durand's contribution. Most important, this career retrospective displays together some of the most beautiful and famous American landscape paintings of the nineteenth century.
This exhibition is organized for the Brooklyn Museum by Linda S. Ferber, Vice President and Museum Director of the New-York Historical Society and former Andrew W. Mellon Curator of American Art and Chair, Department of American Art, Brooklyn Museum.
Kindred Spirits: Asher B. Durand and the American Landscape is made possible by the Henry Luce Foundation.
Additional generous support is provided by Cheryl and Blair Effron, Barbara G. Fleischman and Martha J. Fleischman, the Gilder Foundation, and the Brooklyn Museum American Art Council.