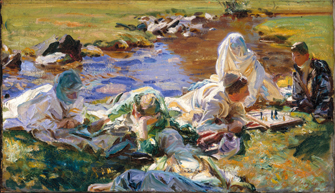 Landscapes from the Age of Impressionism
This exhibition of almost forty paintings includes many of the finest examples of mid-nineteenth through early twentieth-century French and American landscape in the Brooklyn Museum's collection. The works presented offer a broad survey of landscape painting as practiced by such leading French artists as Gustave Courbet and Claude Monet and their most significant American followers including Frederick Childe Hassam and John Singer Sargent.
Among the earliest works in the exhibition are Charles-François Daubigny's The River Seine at Mantes (1856), and Gustave Courbet's Isolated Rock (1862), which reveal the impact of plein-air sketching practice on landscape art of the period. Heirs to this plein-air tradition, French Impressionists Claude Monet, Alfred Sisley, Camille Pissarro, and Gustave Caillebotte painted highly elaborated "impressions"—the seemingly spontaneous, rapidly executed landscapes and cityscapes that prompted the name of their movement. Monet is represented here by several works including Rising Tide at Pourville (1882), Vernon in the Sun (1894), and The Islets at Port-Villez (1897).
Following in the footsteps of the French archetypes, beginning at mid-century many American painters sought to improve their skills and find inspiration in Paris and its environs, attending French art academies and frequenting the painting locations made famous by their Barbizon and Impressionist predecessors. Some of the Americans had direct contact with leading French landscape painters, sharing landscape sites or seeking informal guidance from admired mentors.
The majority of the American paintings on display depict American locales: beaches, factories, tenements, and notable subjects such as Central Park in works distinguished by brilliant colors and lively, broken brushwork, including Williams Glackens's Bathing at Bellport, Long Island (1912), Julian Alden Weir's Willimantic Thread Factory (1893), Robert Spencer's The White Tenement (1913), and Willard Leroy Metcalf's Early Spring Afternoon, Central Park (1911).
The exhibition is co-curated by Teresa A. Carbone, Andrew W. Mellon Curator, American Art; and Judith F. Dolkart, Associate Curator, European Art.
Tour Schedule with Dates
October 29, 2011–February 5, 2012
June 11–September 18, 2011
February 4–May 22, 2011
October 6, 2010–January 16, 2011
June 4–September 12, 2010
February 5–May 16, 2010
February 7–May 10, 2009
September 24, 2008–January 4, 2009
June 13–September 7, 2008
February 15–May 11, 2008
October 21, 2007–January 13, 2008
June 15–September 16, 2007
February 3–May 13, 2007