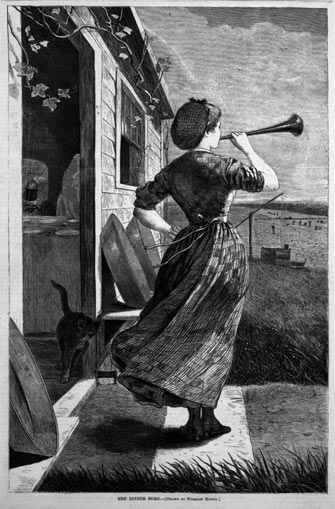 Winslow Homer: Illustrating America
Winslow Homer: Illustrating America, organized by Marilyn Kushner, former Curator of Prints, Drawings, and Photographs at the Brooklyn Museum, features more than 100 prints from illustrated weeklies and journals by the American artist Winslow Homer (1836–1910). Drawn from the Museum's collection, the works were selected from the more than 250 wood engravings donated by collector Harvey Isbitts. Originally developed and presented by the Museum from July to October in 1999, this exhibition provides an overview of Homer's rich career as an illustrator while offering thematic studies of American life as revealed through the artist's images.
The exhibition presents work that spans two decades of American history, recording and reflecting the hopes, anxieties, and mundane concerns of a nation during a period of significant social and political change. Arranged thematically to explore Homer's role as an observer of modern life in the United States, the exhibition delves into the meaning of these images, placing them in an artistic and historical context that reveals to the contemporary viewer the intricacies of American nineteenth-century social conventions.
Of significant interest are Homer's famous Civil War scenes, based on sketches he made as a journalist both on the front lines and at home. Among the earliest mass-produced images of the war, these works range from depictions of men on the front, at times engaged in battle and at other instances passing hours of boredom in their encampments, to women at home waiting for news from the front or helping the war effort. At a time when photography was not common, images such as these, reproduced in magazines and journals, helped to create popular imagery of the Civil War that is influential even today.
Homer's images also serve as a source of insight to domestic and day-to-day life in the nineteenth century. One of the major themes explored through the exhibition is the changing role of women. From illustrations for serial novels published in literary monthly journals to scenes of female tourists at mountain resorts, these works record the subtle transformations in American society as women began to take a greater role in life outside the home. The exhibition also examines other themes, including the evolving attitudes toward children and recreation; daily life in the Northeastern landscape; to moments of hard labor and of rest in the country side and in Homer's favorite retreat, the Adirondack Mountains. In these latter images, Homer records the work of men as they provide for their families, complementing the images of the social and domestic spheres of women.
Although he had a keen eye for contemporary manners and mores, his compelling images should not be read literally. In fact, they were (like popular imagery today) subtle and convincing inventions that reflected and supported mainstream taste and widely held ideas about social values, gender roles, and class relations. Even after Homer was sufficiently established to exercise some autonomy in choice of assignment, his pictorial themes were driven by the editorial policies of his employers and the prevailing tastes and concerns of a mass urban audience. Nevertheless, sharp observation, a sense of irony, and increasingly spare designs set Homer's images apart from more conventional work.
This exhibition has been made possible by the National Endowment for the Arts as part of American Masterpieces: Three Centuries of Artistic Genius.