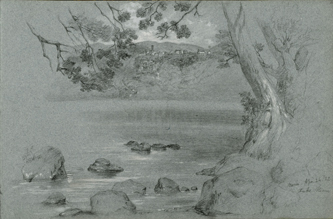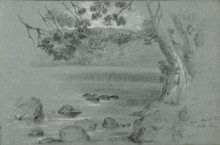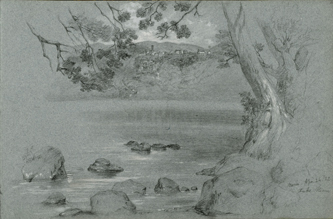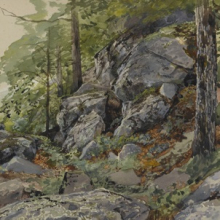 The Brooklyn Museum owns a large cache of paintings, watercolors, and sketchbooks by Richards, a selection of which is included in this exhibition. A prolific artist, leading member of the American Pre-Raphaelites, and a lifelong practitioner of plein air sketching, Richards depicted a wide array of landscape subjects ranging from panoramic vistas to close-up nature studies. This masterly watercolor resembles Asher B. Durand's intimate forest interiors that focus on moss-covered boulders thrust into the foreground of the composition. Like Durand, Richards was devoted to direct observation of geological and botanical details and the belief that God's presence existed everywhere in nature, even in humble rocks.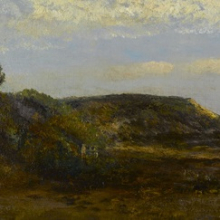 Throughout his career, Martin habitually spent his summers on outdoor sketching campaigns. Although this practice remained constant, his style shifted in the 1870s, when he began to shed the early influence of the Hudson River School in favor of the less detailed and looser manner of the French Barbizon school, an informal network of mid-nineteenth-century artists who practiced plein air painting in the Forest of Fontainebleau, near Barbizon. Martin himself sketched around Barbizon in 1876 and later returned to France for an extended stay in Villerville, where he executed remarkably fresh, freely brushed outdoor paintings such as this one.
"Under the Open Sky": Landscape Sketches by Nineteenth-Century American Artists
March 28–July 29, 2007
In his "Letters on Landscape Painting," a series of articles published in the journal the Crayon in 1855, Asher B. Durand (1796–1886) exhorted young artists to study "under the open sky." This phrase refers to the practice of sketching outdoors (or en plein air), directly in front of a natural motif. Durand was a major practitioner and proponent of this kind of fieldwork, and his influence as leader of the Hudson River School and president of the National Academy of Design (the foremost American artists' organization in the nineteenth century) helped to establish plein air work as a fundamental component of landscape painting in the United States. Numerous examples of Durand's outdoor studies are on view in the special exhibition Kindred Spirits: Asher B. Durand and the American Landscape. Running concurrently with this exhibition, "Under the Open Sky": Landscape Sketches by Nineteenth-Century American Artists highlights the work of fifteen artists who followed Durand's advice—and his footsteps—out into nature.
Outdoor sketching was introduced in Europe in the late eighteenth century during the Romantic era by painters seeking to capture their impressions of nature. With the rise of landscape painting in the United States in the 1820s, American artists also adopted the practice. Plein air work took on special significance in America, where the native landscape was invested with moral, spiritual, and nationalistic values. Such reverent interpretations of American scenery placed a premium on truth in representation. Another catalyst in the quest for naturalism was the influence of the English art critic John Ruskin, whose widely read treatise Modern Painters (1843–60) called for absolute fidelity to nature. Although the criteria for what constituted "truth" in art varied—exacting depiction of the subject matter, convincing portrayal of mood or atmosphere, or allusions to timeless themes—artists used outdoor sketching to give their landscape imagery the cachet of authenticity.
Nineteenth-century American landscape painters regularly spent time during the summer and fall on outdoor sketching excursions. They traveled to mountains, forests, seacoasts, rural areas, and other picturesque sites throughout America and foreign lands seeking artistic inspiration. Armed with portable art supplies (such as sketchbooks, paint boxes, and collapsible stools) and sometimes enduring physical hardships (owing to inclement weather, pesky insects, and remote locales), these artists captured their direct observations of nature in a variety of media. On-the-spot sketches served as mnemonic devices, compositional experiments, and "raw materials" for more finished paintings the artist created in the studio during the winter months. The American public took an avid interest in artists' outdoor activities, fostered in part by published accounts of sketching expeditions, as well as by the exhibition of landscape studies.
"Under the Open Sky" features a selection of almost thirty sketchbooks, drawings, watercolors, and oil paintings from the Brooklyn Museum's rich holdings of American art. Artists include leading figures of the Hudson River School (such as Sanford Gifford and Jervis McEntee), members of the American Pre-Raphaelites (including William Trost Richards and John William Hill), and painters influenced by the French Barbizon school (such as Homer Dodge Martin and Worthington Whittredge). In several instances, a finished picture is juxtaposed with its preliminary sketch—a juxtaposition that provides fascinating insight into the artist's working processes. Through the range of techniques, styles, and subjects on display, the objects in this special exhibition testify to the variety and vitality of the practice of plein air sketching in nineteenth-century American art.
"Under the Open Sky": Landscape Sketches by Nineteenth-Century American Artists was organized by Karen Sherry, Assistant Curator of American Art.