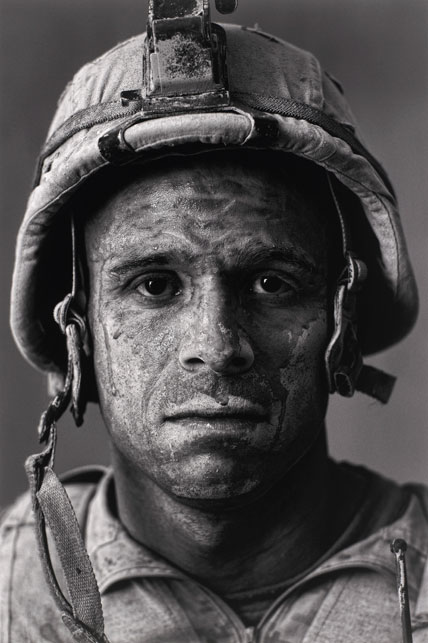 WAR/PHOTOGRAPHY: Images of Armed Conflict and Its Aftermath
November 8, 2013–February 2, 2014
WAR/PHOTOGRAPHY: Images of Armed Conflict and Its Aftermath explores the experience of war with an unprecedented collection of 400 photographic prints, books, magazines, albums, and camera equipment, bringing together iconic and unknown images taken by members of the military, commercial portraitists, journalists, amateurs, artists, and numerous Pulitzer Prize–winning photographers.
Including the work of some 255 photographers from around the globe who have covered conflicts over the last 166 years, WAR/PHOTOGRAPHY examines the interrelationship between war and photography, reveals the evolution of the medium by which war is recorded and remembered, and explores the range of experience of armed conflict: recruitment, training, embarkation, daily routine, battle, death and destruction, homecoming, and remembrance. In addition to depicting the phases of war, WAR/PHOTOGRAPHY includes portraits of servicemen, military and political leaders, and civilians and refugees.
The objects on view include rare daguerreotypes and vintage photographs, such as Roger Fenton's iconic The Valley of the Shadow of Death (1855) from the Crimean War and an early print of Joe Rosenthal's Old Glory Goes Up on Mount Suribachi, Iwo Jima. More recent images include a 2008 photograph of the Battle Company of the 173rd Airborne Brigade in eastern Afghanistan by Tim Hetherington.
WAR/PHOTOGRAPHY: Images of Armed Conflict and Its Aftermath has been organized by the Museum of Fine Arts, Houston, curatorial team of Anne Wilkes Tucker, Will Michels, and Natalie Zelt. The Brooklyn presentation is organized by Tricia Laughlin Bloom, Associate Curator of Exhibitions, Brooklyn Museum.
Generous support for the exhibition in Brooklyn has been provided by the Robert Mapplethorpe Foundation and the Martha A. and Robert S. Rubin Exhibition Fund.