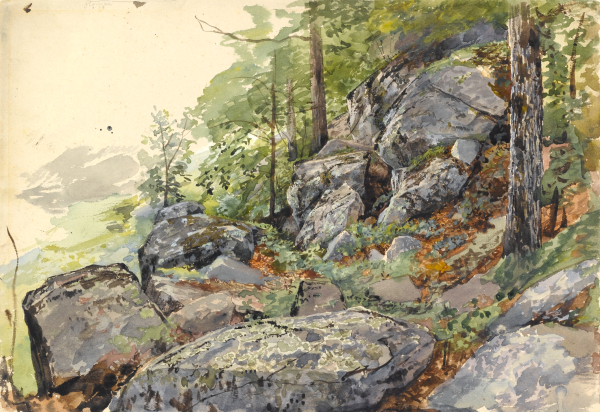 William Trost Richards: Experiments in Watercolor
March 15–September 9, 2018
The rise of watercolor painting in the mid-to-late nineteenth century coincided with a growing artistic interest in the expressive possibilities of the medium. American landscape painter William Trost Richards (1833–1905) was at the forefront of this movement, using both traditional and unconventional materials and techniques. Featuring approximately twenty works, this exhibition focuses on the ways in which Richards employed colored and textured papers, explored various densities of application, and experimented with larger formats that approximated the scale and finish of his oil paintings.
Inspired by a trip to London in 1855 and a landmark exhibition of British oil paintings and watercolors that traveled to Philadelphia in 1858, Richards began working in watercolor in the late 1850s, producing outdoor studies of landscapes and still lifes grounded in careful observation of nature. He took up watercolor again in earnest in the late 1860s and 1870s, gravitating toward marine and coastal scenes that were well suited to the fluid and transparent qualities of the medium.
The innovative works on view reveal the artist's remarkable technical facility and range, as well as his significant contribution to the evolving and enduring role of American watercolor practice in the late nineteenth century.
William Trost Richards: Experiments in Watercolor is organized by Margarita Karasoulas, Assistant Curator, American Art.