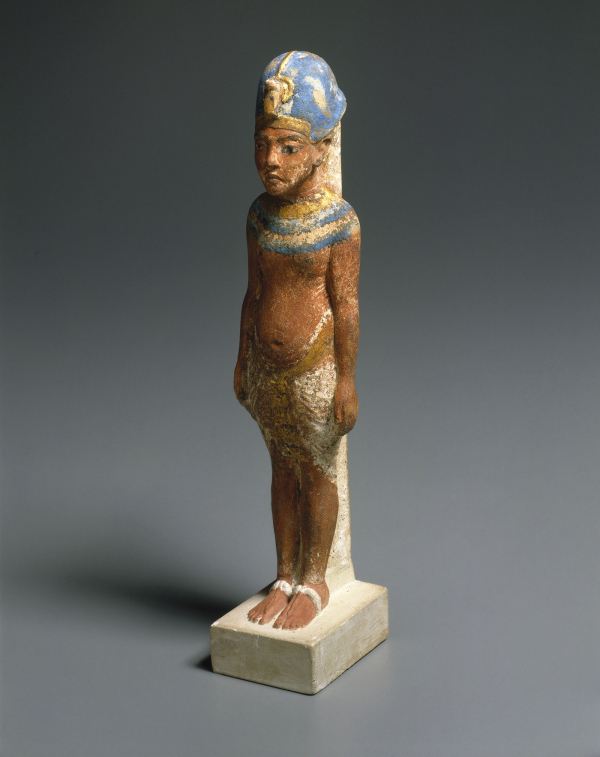 A Woman's Afterlife: Gender Transformation in Ancient Egypt
Long-Term Installation
Egyptian Galleries, 3rd Floor
The ancient Egyptians believed that to make rebirth possible for a deceased woman, she briefly had to turn into a man. Guided by new research inspired in part by feminist scholarship, the exhibition A Woman's Afterlife: Gender Transformation in Ancient Egypt tells this remarkable story of gender transformation in the ancient world, exploring the differences between male and female access to the afterlife.
Egyptian medicine taught that a woman, once in her tomb, faced a biological barrier to rebirth. Because the ancient Egyptians believed that in human reproduction it was the man who created the fetus, transferring it to the woman during intercourse, rebirth was impossible for a woman alone. To overcome this perceived problem, a priest magically transformed a woman's mummy into a man long enough to create a fetus. This required representing a woman with red skin on her coffin—the color normally assigned to a man—and reciting spells that addressed the woman with masculine pronouns, spells also recorded graphically on the coffin. A woman later returned to her original female state and incubated herself for rebirth into the afterlife as a woman.
This exhibition showcases 27 objects from our renowned collection of ancient Egyptian art. It includes the painted coffin box and mask of Weretwahset, which represents a deceased woman with red skin, the magical intervention that gave her the male power to create a fetus for her own rebirth. There is also a small, finely carved statuette of a woman; her elaborate wig and close-fitting dress indicate that she has returned to the female state after recreating herself for rebirth.
A Woman's Afterlife: Gender Transformation in Ancient Egypt is organized by Edward Bleiberg, Curator of Egyptian Art, Brooklyn Museum.