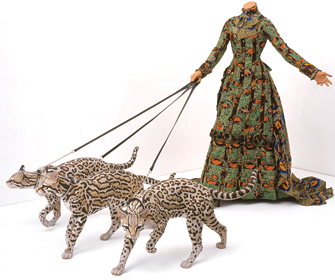 Yinka Shonibare MBE
June 26–September 20, 2009
This exhibition is a major midcareer survey of work by the UK-based Nigerian artist Yinka Shonibare MBE. Shonibare's artwork explores contemporary African identity and its relationship to European colonialism through painting, sculpture, installation, and moving image. Shonibare is best known for his work with visual symbols, especially the richly patterned Dutch wax fabric produced in Europe for a West African market that he uses in a wide range of applications. His tableaux of headless mannequins costumed in this fabric evoke themes of history and its legacy for future generations. Through these works he explores the complex web of interactions, both economic and racial, that reveal inequalities between the dominant and colonized cultures of Europe, Asia, and Africa. A site-specific installation created for this presentation titled Mother and Father Worked Hard So I Can Play will be on view in several of the Museum's period rooms.
Another site-specific installation, Party Time—Re-Imagine America: A Centennial Commission by Yinka Shonibare MBE, will be on view at the Newark Museum in Newark, New Jersey, from July 1, 2009, to January 3, 2010, in the dining room of the museum's 1885 Ballantine House.
Yinka Shonibare MBE is organized and toured by the Museum of Contemporary Art, Sydney, Australia. The exhibition is curated by Rachel Kent.
Presenting sponsor
Additional support provided by Emily Fisher Landau.
Media sponsor
Print sponsor