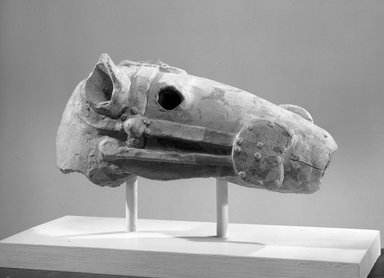 Horse Head
Japanese burial practice in the Kōfun period was marked by the use of fired earthenware cylinders such as this, called haniwa (literally, "clay circles"), that were placed in rows around tomb mounds. Representational haniwa depict persons, ritual objects, weapons, or animals, like this one in the form of a horse head with a bridle of applied and strip decoration. The donor of this piece, the famous artist Isamu Noguchi (1904–1988), was introduced to haniwa during his first trip back to Japan in 1931, when they became influential in his own work.
Medium: Low fired earthenware pottery, reassembled from fragments
Geographical Location: Japan
Dates: 5th-6th century
Period: Kofun or Tomb Period
Dimensions: 6 x 5 1/2 x 12 1/4 in. (15.2 x 14 x 31.1 cm)
Collection: Asian Art
Museum Location: Brooklyn Museum, BMA, 5H19, 3D
Accession Number: 61.233
Catalogue Description:
Low fired pottery horse head (haniwa) Earthenware haniwa in the form of a horse head with bridle of applied boss and strip decoration. Condition: Left ear void, right ear chipped. Back of head and most of left side is badly worn. Some repair to bridle straps at right side.
---