This is fantastic. How come I've never heard of Joan Semmel?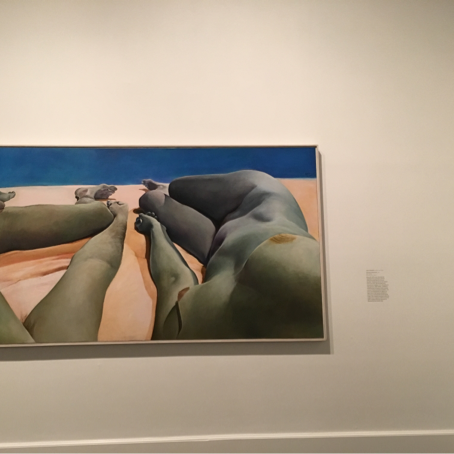 Hm, I'm not sure, but many female artists aren't as well-known as well as they could be, in my opinion! Thankfully we have the Sackler Center for Feminist Art here at the Brooklyn Museum. (This work is from their collection). Here Semmel questions the male gaze and reclaims the female form. I like to compare this with the nearby Philip Pearlstein work, which is painted at a similar time but by a male artist.
Philip Pearlstein's work is the nude woman in the rocking chair. How do you think the identity of the artists change the way you understand the works?
I see that this room with the Semmel is all paintings from approximately 1935 onwards. What would you say they have in common?
I'd say they share interest in the human figure as subject matter. Artists have always been questioning and exploring different depictions of the human body, but this gallery highlights those thoughts after the Second World War.
You might also notice the work by Mickalene Thomas is even more recent (2007). Mickalene Thomas' work (the large painting covered in rhinestones) questions not only the role of the human body in art, but also race and intersecting identities.
Answering your question about Pearlstein and Semmel, I think the Pearlstein figure is posed in a more provocative and sexual way, with her head tilted back. So maybe that's a little more stereotypical as a depiction?
And what do you mean "intersecting identities"?
It's a contemporary idea that people can have simultaneous multiple "identifiers." Thomas is Black, a woman, queer, and a feminist. Intersecting identity recognizes the uniqueness of an individual's experience and point of view.
Thomas's identity and work are placed within these intersecting roads of understanding and conversation. I hope that makes sense!
Yes, very enlightening, thank you!
The cool palette  of this work keeps the viewer at a slight distance, removed even. And yet, the perspective is as if these bodies were our own, bridging the gap. Did Semmel often consider the gaze of the viewer? There seems to be a breaking of fourth wall here.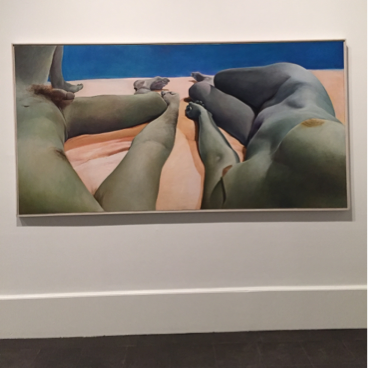 Wonderful observations. I want to first tell you that this painting by Semmel was a snapshot of Semmel herself, and her partner lying together so she is certainly challenging the idea of "the male gaze" as a woman doing the gazing and painting the gazing. She painted a series of works in the 1970s entitled "Sex Paintings" and the "Erotic Series" which are large paintings of sexualized people in sexual positions, so it is certainly something she was interested in at this point in her career.
As she grew older (she is now 83) she was interested in depicting the aging female body. And if you look at any of her later works, from the 1980s and on, you will see a celebration of the aging female body in the nude.
So, to your point of considering the viewer's gaze, you hit the nail on the head. That is definitely what Semmel is interested in. If you look across the gallery, there is a female nude painted by a man. It's an interesting juxtaposition of the gaze and authority. 
This is amazing. Thank you! Now I'm wondering if she was also a photographer . . . thinking about Renaissance painters & camera obscura re perspective and composition.
She uses photography EXTENSIVELY in her painting practice--some of her self-portraits even include the camera she is using to capture her image. I don't believe she considers herself a "photographer," however, as her finished works are all on canvas.
I love that you took it back to the Renaissance though! I always enjoy those paintings where an artist is looking at themselves in a mirror to complete a self-portrait.
I'm excited to see more of her work now! Thank you! I'll probably return with another question.
What do you think is the message here?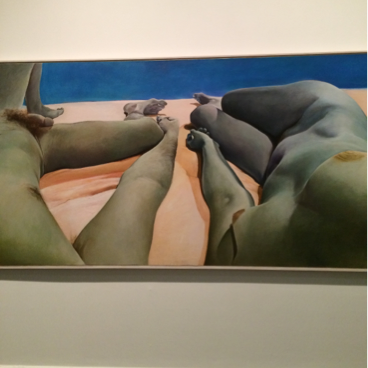 In "Intimacy-Autonomy," Joan Semmel is considering the female nude in art history. Many nude depictions of women throughout art history were made by men. In this painting, Semmel is reclaiming the nude by painting herself and her partner in bed.
She used these non-naturalistic blue tones to make the painting seem more surreal.
Could you tell me more about the artist?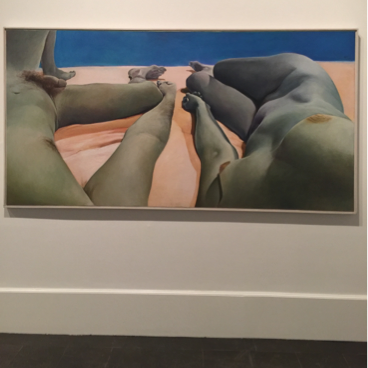 Sure! Joan Semmel is a contemporary painter. Since the 1970s she has centered her work around the nude body, sexual desire and erotica. She is invested in second wave feminist critiques of the male gaze and the representation of women in art. Here Semmel paints a photograph she took of herself and her partner.
What I like most about this work is how unclear the viewpoint is. . . Is this seen through the man's eyes, or the woman's? And I start to question what if might mean if this is a man looking versus a woman. What do you think? Do these surreal blue figures make you question gender and looking?
Well at first  I think this painting is seen through the woman's side. But yes, it could be from the man's side as well
I agree with you there. It's sometimes interesting to think about how point of view can change the way a work is understood. Let me know if you have any more questions as you explore :~)
Tell me more.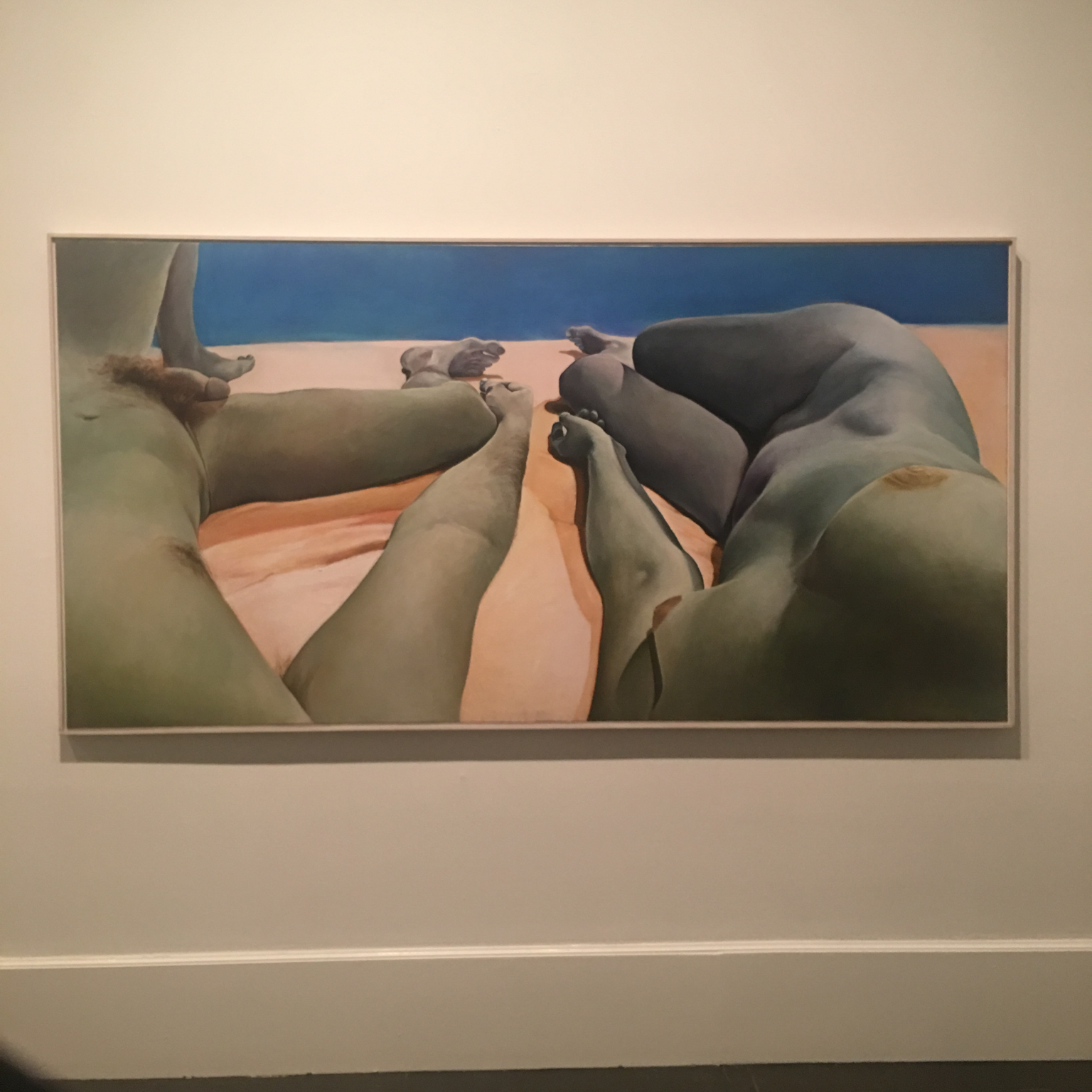 Though the colors are otherworldly, this painting is actually based on a photograph that the artist, Joan Semmel, took while lying in bed with her partner. She subverts the male gaze by portraying nude bodies from her own physical point of view. Completed in 1974, during the height of Women's Liberation, Semmel's work played right into the trend of reappropriating the female body.
She said: "I was convinced that the repression of women began in the sexual arena, and this would need to be addressed at the source."
Wow, it is really a good work. Thank you.
Do you think Joan Semmel was influenced by Georgia O'Keeffe, or vice versa?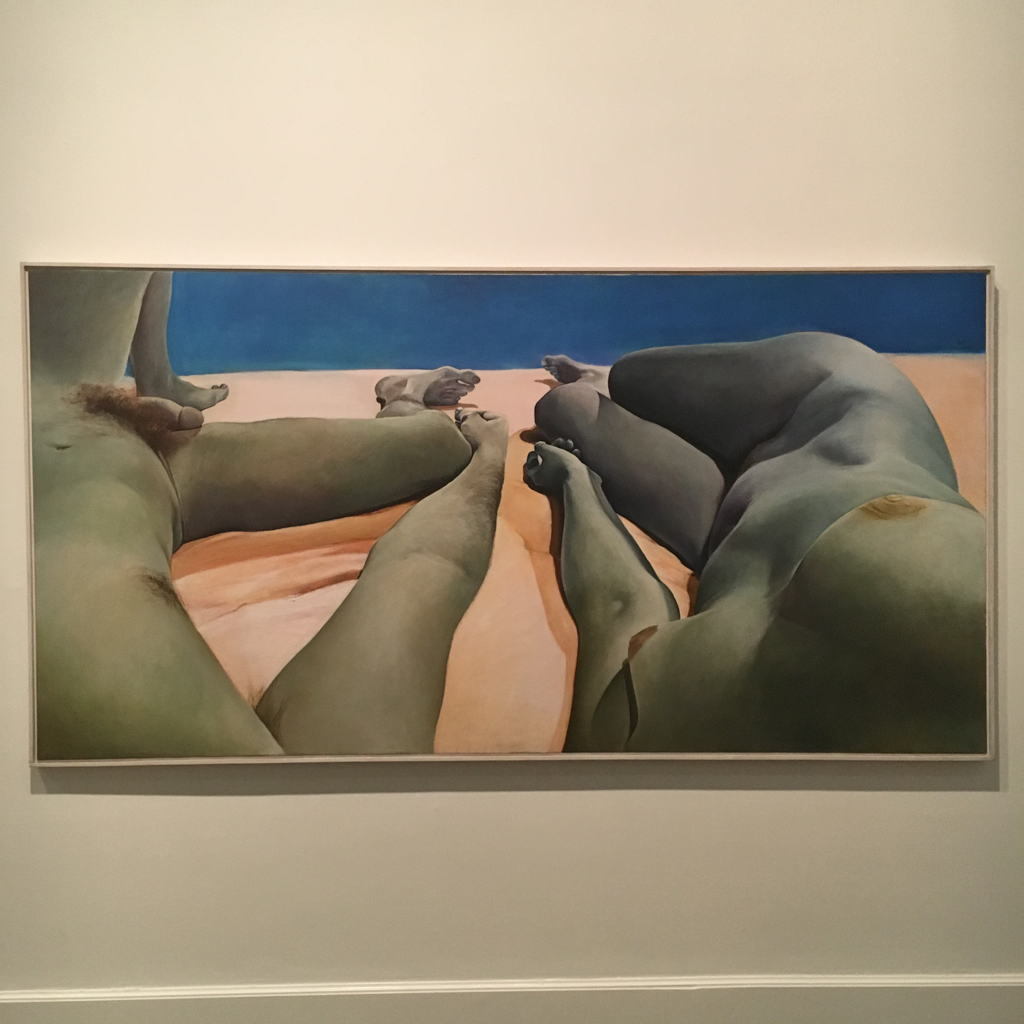 I do think that Semmel was influenced by O'Keeffe like many feminist artists of the 20th century. O'Keeffe would have been about 90 when this was created and was largely no longer painting.
However, they both lived in New York City and studied at some of the same institutions, like the Art Students League.
The color is a bit unsettling, but it demands attention.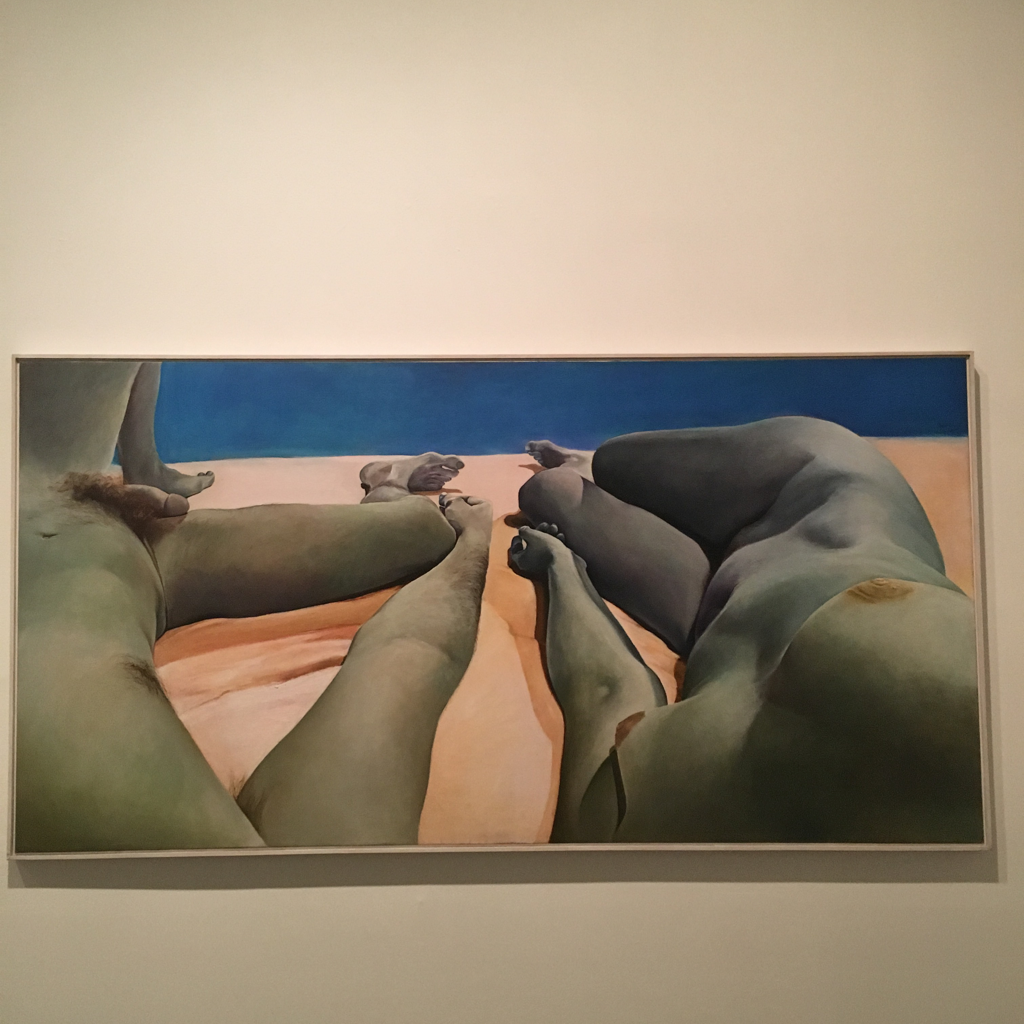 I think part of what Semmel was trying to do with the unsettling color was call attention to the work. She's presenting this idea, of nudes from the female perspective, as an alien concept because it was at the time, in the context of traditional art history.