Was this piece created using the tape from a cassette?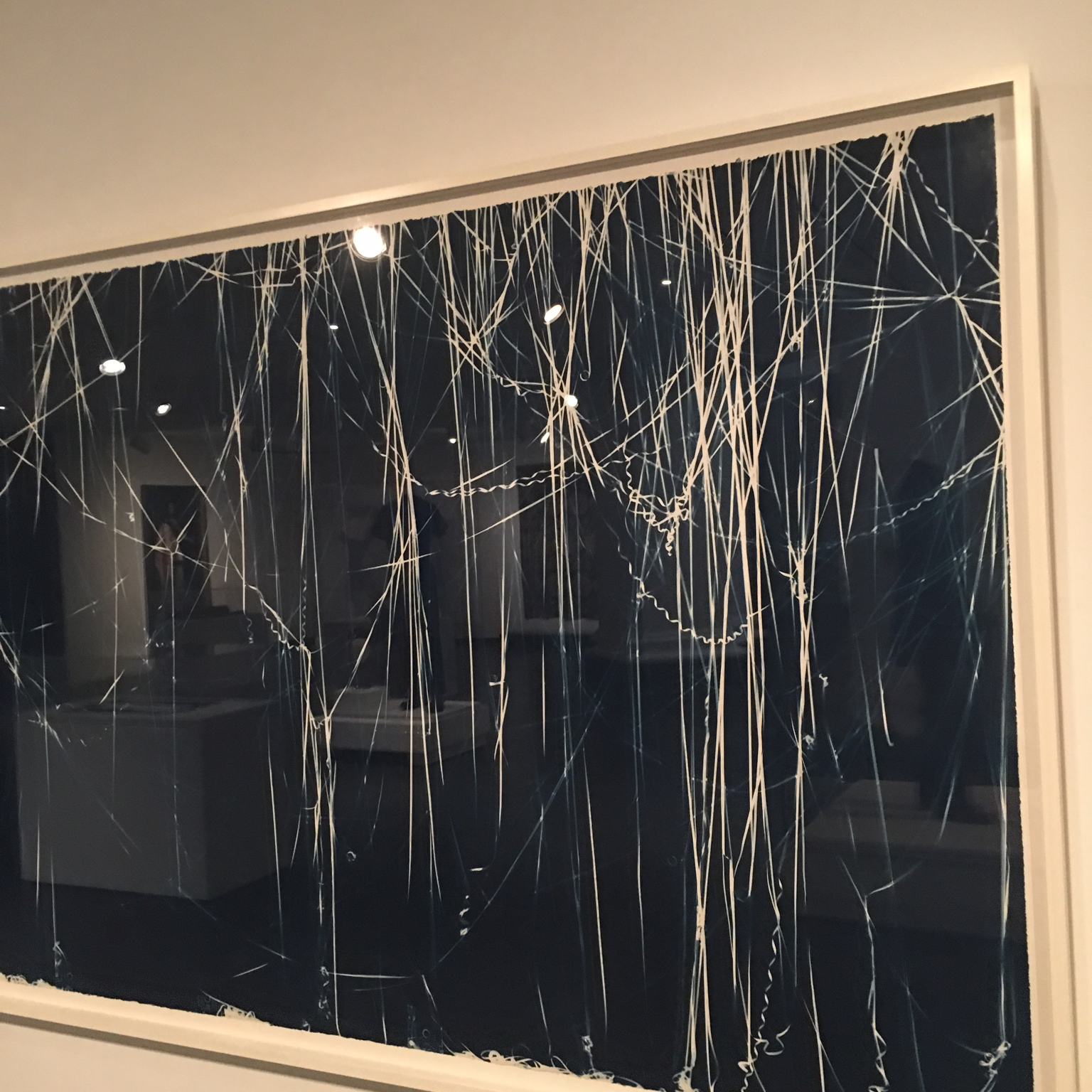 Yes! Marclay laid down the cassette tapes onto paper coated with light-sensitive chemicals, so the areas covered were blocked from light exposure.
The work focuses on two obsolete technologies, one in subject and the other in execution.
No, It's a photographic process! Cyanotypes are made using a light-sensitive paper that develops into a rich blue color. It was one of the earliest photographic processes, first published in 1842. It's sometimes called photography's "Blue Period".
Is cyanotype a printing method in photography?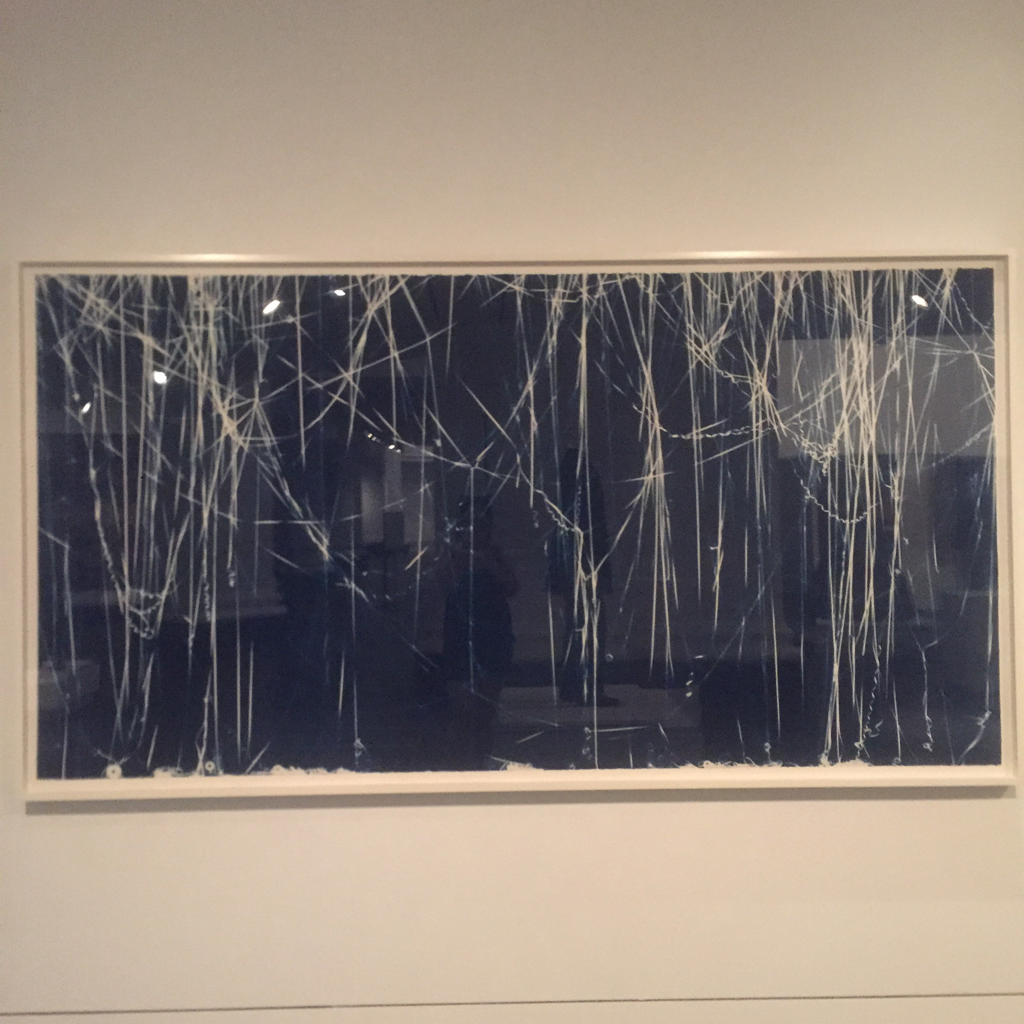 Cyanotype is one of the simplest and most archival photographic processess. The white lines you see are actually silhouettes of cassette tapes.
It is too blue, I can't even tell if it is a photograph or not!
Yes, it's definitely not obvious when you first see it but the process is so interesting. Two solutions are used to evenly double coat a piece of paper. After it has dried, it is exposed with a photo negative and rinsed off with hot water. At this point the unexposed portions of the image wash away, leaving this distinct blue color.
Marclay would lay the tape over the coated paper so that the areas covered by the tape were blocked from light exposure and remained light!
Cyanotype is an early photographic process that continues to be popular with fine artists today. The process works by treating paper with iron salts that react with light to create a Prussian Blue color. The process is especially valued for its ability to pick up a great amount of detail in the resulting print. You can see the veins in the leaves of Anna Atkins' print, for example.
So the prints are always blue?
Yes! The process can only produce shades of blue.
Is that blueprint of the cassette tapes printed on a single sheet of paper? It's huge.
Yes it is. It's printed via a cyanotype process. It's a direct photographic process where the paper is selectively blocked off and exposed. The paper is coated with photosensitive chemicals and then exposed using light. In this case the cassettes placed over the paper selectively blocked out the light. The artist here was particularly interested in how the cyanotype process and the cassettes are both obsolete technologies.
The cassette tapes used here are all from the band Lag Wagon, while a display with books containing cyanotypes nearby has an image from a print in the same series featuring Prince cassette tapes.
Tell me more.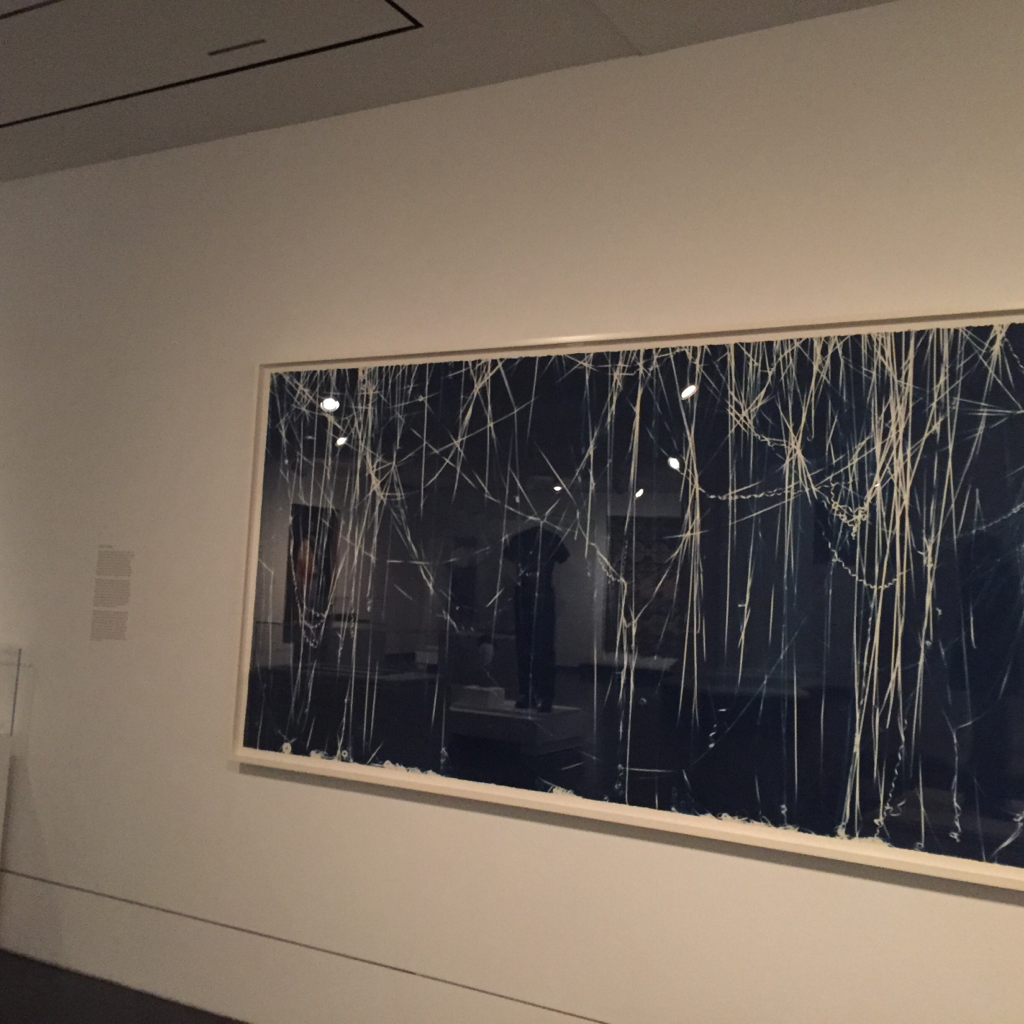 You're looking at "Momento (Lag Wagon)" by Christian Marclay. It's a large cyanotype, one of the most accessible early photographic processes. This work takes that obsolete technique and brings it into contemporary art, using it to record images formed using another obsolete technology, cassette tapes.
The cassette tapes, all very likely from the band Lag Wagon, were unspooled by the artist and laid on photosensitive paper, which was then exposed. The work is part of a series. In a case nearby you can see a book with a copy of the "Memento (Prince)" work from the same series. As you might guess, that version uses cassette tapes from Prince albums!
After looking at the piece "Momento (Lag Wagon)" by Christian Marclay, I was wondering what the process of cyanotype entails.
Sure! Like with any photo printing technique, light sensitive paper is selectively exposed and developed. In cyanotype the chemicals used are ferric ammonium citrate and potassium ferricyanide which are painted onto the paper.
The cyanotypes in this exhibition were exposed while the objects were placed on top of the paper to block some of the light. The chemicals react to create the compound known as Prussian blue. Finally, the image is washed, to leave the exposed image.
Why do you think he made this? I'm only familiar with his music and performances.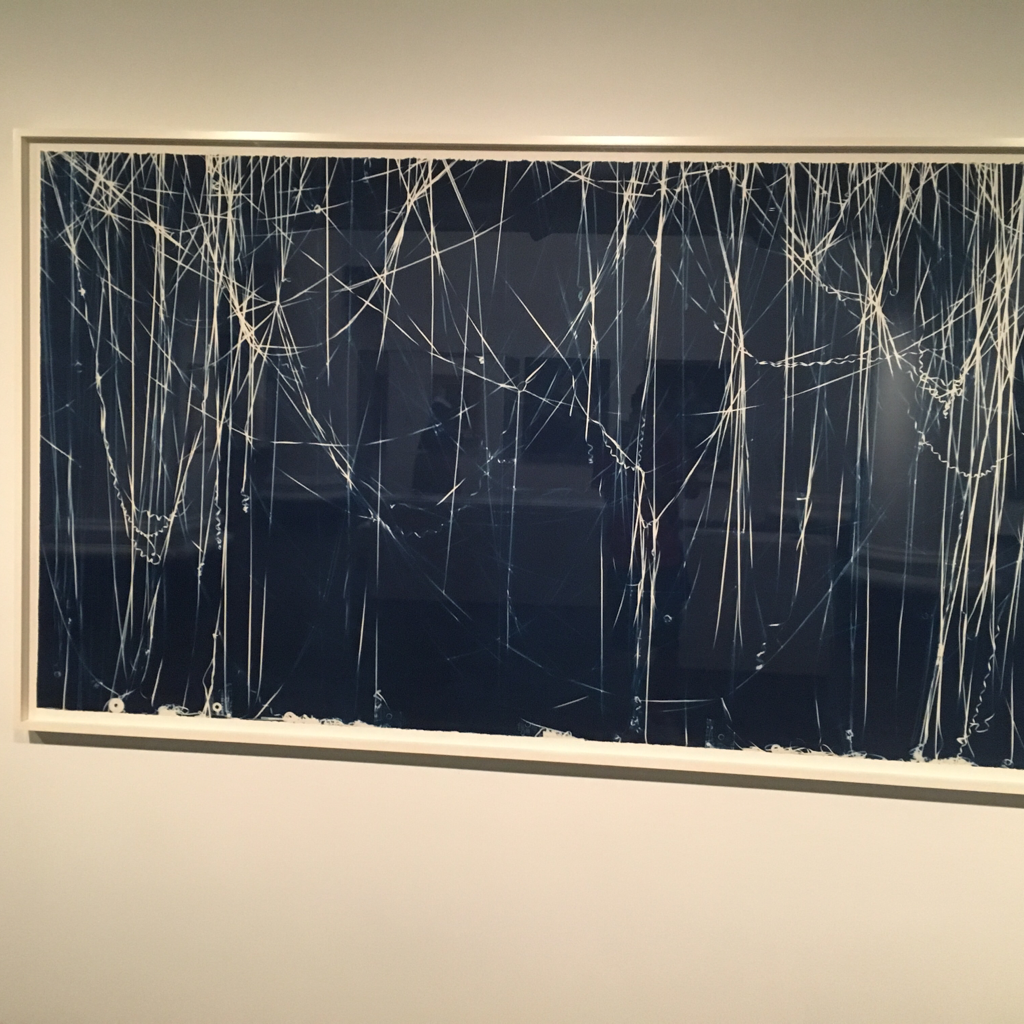 He has also used cassettes in his multi-media performance art over the years, for sound and music. He's really interested in the idea of sampling, using sound (like in hip-hop, but in other types of music as well) and visual sampling too. This work explores that practice.
He also liked to allow an element of chance into his work at times.
Here's a good quote from Marclay that might help answer your question about his performances vs. his visual art: "In my mind, the two activities are very connected; while I'm doing one I'm thinking about the other. My work as a visual artists deals with sound and music, and I've always thought of music as something close to performance art. There is a visual element when performing in front of an audience."