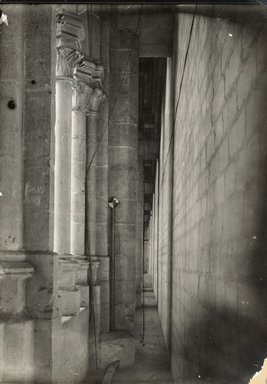 Cathedral, Amiens, France, 1903
Image: "Cathedral, Amiens, France, 1903", 1903. Bw photographic print 5x7in, 5 x 7 in. Brooklyn Museum, Goodyear. (Photo: Brooklyn Museum, S03i0745v01.jpg
Notes: II. Sept. 15. Amiens-32. Interior. Triforium. Nave. Left (north) side. Looking toward facade, back of the camera is near transept. With plumb-lines. Showing interior construction of the widening refinement. [Graffiti.] Goodyear number: 261. Annotations: 25 x 35. Slide. First series. MEM 52. Goerz. D 64. 45 minutes.
Collection: Goodyear Archival Collection
Folder: Visual materials [6.1.003]: 1903 survey expedition photographs.
Brooklyn Museum