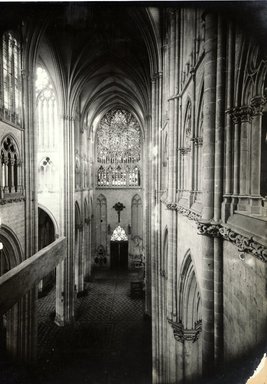 Cathedral, Amiens, France, 1903
Image: "Cathedral, Amiens, France, 1903", 1903. Bw photographic print 5x7in, 5 x 7 in. Brooklyn Museum, Goodyear. (Photo: Brooklyn Museum, S03i0746v01.jpg
Notes: IV. Sept. 15. Amiens-33. View through transepts from right (south) transept gallery showing vertical curves. Plumb line hanging from stick (surveyor's rod?) This rod is out 2 ft 5 inches from edge of parapet. This gives a scale of dimension. [Amiens Cathedral; interior view]. Goodyear number: 262. Lantern slide number: 43; c69. Annotations: 25 x 35. slide. First series. MEM 44. B & L. D 64. 15 minutes.
Collection: Goodyear Archival Collection
Folder: Visual materials [6.1.003]: 1903 survey expedition photographs.
Brooklyn Museum