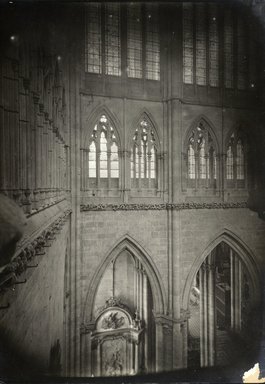 Cathedral, Amiens, France, 1903
Image: "Cathedral, Amiens, France, 1903", 1903. Bw photographic print 5x7in, 5 x 7 in. Brooklyn Museum, Goodyear. (Photo: Brooklyn Museum, S03i0751v01.jpg
Notes: III. Sept. 15. Amiens-38. Left (north) transept. East side. From Triforium. Showing the outward lean of the wall and of the pier in the angle. A plumb-line is hung in the angle ot show this lean. Surveyor's rod for scale is seen in the left bay of the triforium gallery. Goodyear number: 267. Annotations: 18 x 22. Slide. B & L. D 32. 15 minutes.
Collection: Goodyear Archival Collection
Folder: Visual materials [6.1.003]: 1903 survey expedition photographs.
Brooklyn Museum