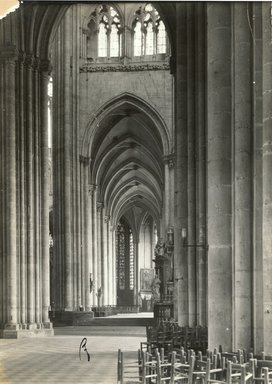 Cathedral, Amiens, France, 1903
Image: "Cathedral, Amiens, France, 1903", 1903. Bw photographic print 5x7in, 5 x 7 in. Brooklyn Museum, Goodyear. (Photo: Brooklyn Museum, S03i0754v01.jpg
Notes: V. Sept. 18. Amiens-41. Right aisle looking through transept to aisle of choir. Showing return bend in big pier of nave, resulting from widening aisle and nave in opposite directions, same pier. Two plumb-lines from gallery. Surveyor's rod against second pier left. Lean right is 1/4 diameter 1.17 say .30. Lean left is 1/3 diameter 1.30. Lean .42 1/2. Triforium columns lean off. Goodyear number: 270. Annotations: 25 x 35. Slide. First series. MEM 54. Goerz. D 128. 30 minutes.
Collection: Goodyear Archival Collection
Folder: Visual materials [6.1.003]: 1903 survey expedition photographs.
Brooklyn Museum