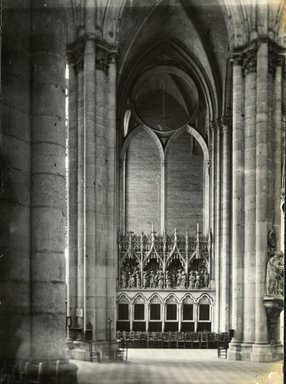 Cathedral, Amiens, France, 1903
Image: "Cathedral, Amiens, France, 1903", 1903. Bw photographic print 5x7in, 5 x 7 in. Brooklyn Museum, Goodyear. (Photo: Brooklyn Museum, S03i0760v01.jpg
Notes: I. Sept. 17. Amiens-47. Plumb lines. Same view as XIII Sept. 16. Rear view of pier seen in XII. Sept. 16. Right transept, looking from choir, outer aisle. Showing southward lean of pier. Goodyear number: 276. Annotations: Goerz. D 64? 10 minutes.
Collection: Goodyear Archival Collection
Folder: Visual materials [6.1.003]: 1903 survey expedition photographs.
Brooklyn Museum