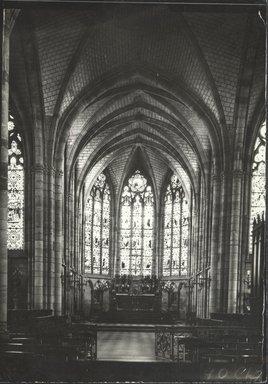 St. Loup, Chalons, France, 1903
Image: "St. Loup, Chalons, France, 1903", 1903. Bw photographic print 5x7in, 5 x 7 in. Brooklyn Museum, Goodyear. (Photo: Brooklyn Museum, S03i0784v01.jpg
Notes: II. July 27. St. Loup. Nave near choir. Widening refinement. St. Loup belongs to the rather rare type in which the widening begins at the pavement and rises in straight lines which diverge without curves. St. Ambrogio, Milan. The Thomas Kirche at Strasbourg are important instances. See also the aisle piers of St. Alpin Chalons and St. Eustorgis, Milan. Perugio Cath. belongs to this type. S. Maria della Vieve does essentially as regards beginning at pavement although there are delicate curves there. Plumb-line on right side of pier. Right same as in I. July 26. It is almost universal rule that the widening is most marked on the right side. This church is an instance. Series 1903; St. Loup nave near choir showing widening refinement. Goodyear number: 90. Lantern slide number: 58; 42. Annotations: 25 x 35 Slide. First series. MEM 8. Goerz. D 128. 17 minutes.
Collection: Goodyear Archival Collection
Folder: Visual materials [6.1.003]: 1903 survey expedition photographs.
Brooklyn Museum