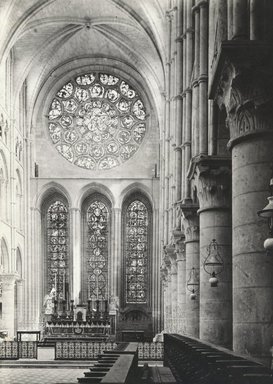 Cathedral, Laon, France, 1903
Image: "Cathedral, Laon, France, 1903", 1903. Bw photographic print 5x7in, 5 x 7 in. Brooklyn Museum, Goodyear. (Photo: Brooklyn Museum, S03i0805v01.jpg
Notes: IV. July 23. Choir right (from near the grille) on two plumb-lines from gallery in opposite angles of the choir. The right plumb line is held in place by surveyor's rod placed horizontally. The plumb-lines show widening and vertical curves at points where there is absolutely no vaulting thrust. Plumb shows 5 inches spread and curve (on one side) with line of 41 1/2 feet. From gallery to pavement is 45 1/2 feet. Goodyear number: 47. Annotations: 25 x 35. First series. MEM 25. Goerz. D 128. (anti-halo Lumiere). 7 minutes at 3 1/2 to 11 am.
Collection: Goodyear Archival Collection
Folder: Visual materials [6.1.003]: 1903 survey expedition photographs.
Brooklyn Museum