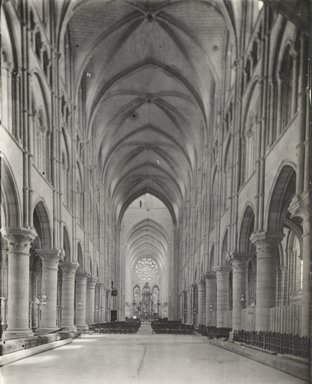 Cathedral, Laon, France, 1903
Image: "Cathedral, Laon, France, 1903", 1903. Bw photographic print 5x7in, 5 x 7 in. Brooklyn Museum, Goodyear. (Photo: Brooklyn Museum, S03i0812v01.jpg
Notes: II. July 21. The nave from main entrance at centre. This view poorly focussed is an excellent illustration of the widening if measures are compared. Width of nave 30 1/2 but at 1st pair of transept piers. Goodyear number: 52. Annotations: n.g. B and L wide angle. D 128. 12 minutes at 11 am.
Collection: Goodyear Archival Collection
Folder: Visual materials [6.1.003]: 1903 survey expedition photographs.
Brooklyn Museum