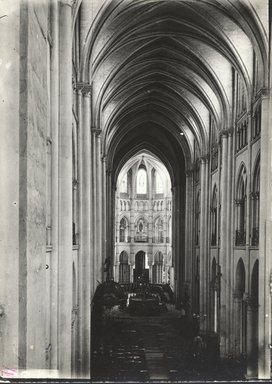 Cathedral, Noyon, France, 1903
Image: "Cathedral, Noyon, France, 1903", 1903. Bw photographic print 5x7in, 5 x 7 in. Brooklyn Museum, Goodyear. (Photo: Brooklyn Museum, S03i0817v01.jpg
Notes: II. July 20. The nave, from organ gallery, left side. Magnificent illustration of vertical curves, offered by comparing the verticals of the piers, with the plumb lines offered by the lamp chains. A survey plumb line hangs from the rod in second bay of the right gallery. Goodyear number: 35. Annotations: 25 x 35. First series. MEM 121. Goerz. D 128. 8 minutes at 11:20 am.
Collection: Goodyear Archival Collection
Folder: Visual materials [6.1.003]: 1903 survey expedition photographs.
Brooklyn Museum