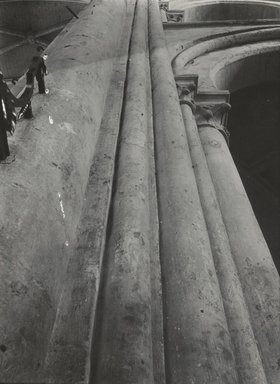 Cathedral, Noyon, France, 1903
Image: "Cathedral, Noyon, France, 1903", 1903. Bw photographic print 5x7in, 5 x 7 in. Brooklyn Museum, Goodyear. (Photo: Brooklyn Museum, S03i0821v01.jpg
Notes: V. July 20. Photograph of a vertical curve looking upward. Taken on first pier left at crossing. Better similar views of curves were obtained at Amiens, St. Quentin and Paris (Notre Dame). This cut is cut by the bellows of the camera at the point where the curve begins to be accented. (Notes say 'plumbline on big pier gives 2 inches. Curve - line of 43 ft.' This is the companion pier; see no. [Dramatic angle up pillar to arch.] Goodyear number: 40. Annotations: 18 x 22 Eastman. D 128. 20 minutes.
Collection: Goodyear Archival Collection
Folder: Visual materials [6.1.003]: 1903 survey expedition photographs.
Brooklyn Museum