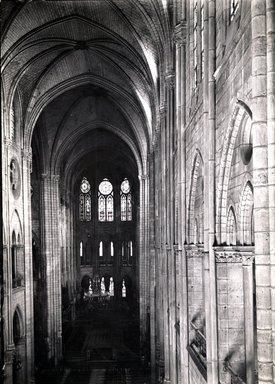 Notre Dame, Paris, France, 1903
Image: "Notre Dame, Paris, France, 1903", 1903. Bw photographic print 5x7in, 5 x 7 in. Brooklyn Museum, Goodyear. (Photo: Brooklyn Museum, S03i0828v01.jpg
Notes: VIII. Sept. 2. Notre Dame-8. (Right) south side of nave from organ gallery. This negative is not printed to perpendicular. No plumb line. Shows vertical curves and widening and the forward bulge of piers. Note how inner face of first gallery pier diverges from the lean of first rib. This neg requires careful printing to perpendicular. Take perpendicular from III Sept. 1. Goodyear number: 148. Annotations: 25 x 35 slide. First series. Eastman. D 128. 40 minutes.
Collection: Goodyear Archival Collection
Folder: Visual materials [6.1.003]: 1903 survey expedition photographs.
Brooklyn Museum